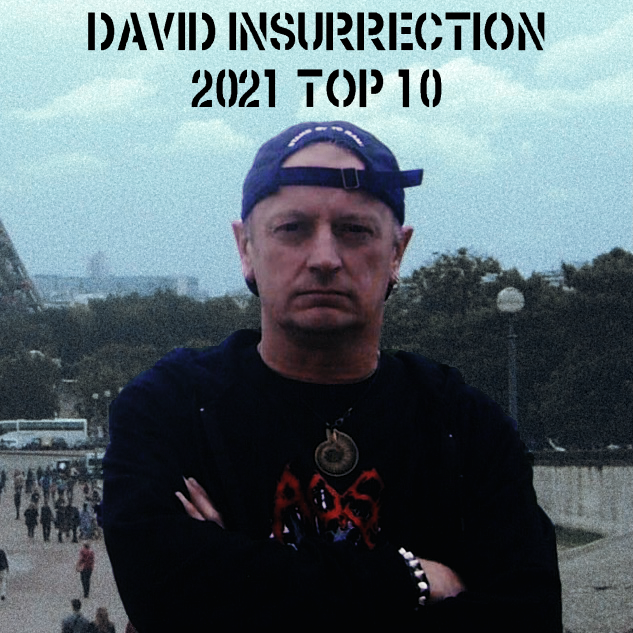 I'm deeply flattered to have been given this opportunity to share with you all my top ten albums of 2021. The last 12 months have offered up several awesome releases so it was no mean task whittling it down to ten. Still now that that's done and without further ado here they are:

Anthrax – Serfs Out
In 1983 I picked up Anthrax's second 7" 'They've Got It All Wrong' on Small Wonder Records. It was Pete Stennett's plan to go out with a bang. The single proved to be a fitting tribute and a classic of the period. Fast forward 38 years and Anthrax have released their second album Serfs Out, their first since 2012's All For The Cause. It's an incredible achievement, one that laments the current state of the country. It is a damning indictment of life in Brexit Britain. Listening to it you feel that you're in the presence of greatness. Great tunes with a sobering message.

Karma Sutra – Be Cruel With Your Past And All Who Seek To Keep You There
Sealed Records have released a timely collection of Karma Sutra cuts including demos and studio tracks many of which are available on vinyl for the first time. I had thought that perhaps this collection would include The Daydreams of a Production Line Worker but no. Still, this collection boasts many other highlights, among them Poll Tax. Some may remember this amazing track (produced by Steve Spon no less) from the Profane Existence 15 Year Anniversary Compilation. The two Mortarhate compilation tracks (from Who? What? Why? When? Where? and We Don't Want Your Fucking Law) are also included here as are tracks from The New Economy Roast and Shoppers Paradise demos. Altogether a fantastic collection worthy of the band's memory.

Inner Terrestrials – Heart of the Free
IT! return with a brand new album, their first since 2012's Tales of Terror. It's also sadly their first album since Paco's passing. Big shoes to fill but new drummer Ben Swan does so admirably. Going in to the album I did have some serious concerns as to whether Heart of the Free would live up to previous expectations but after a few listens it quickly became a firm favourite at Insurrection Towers. Tracks like Chain of Command, Binary Dust and Irreverent are as good as anything they've done on either X or Tales of Terror. It's perhaps got a mellower groove. Magali (La Fraction) lends her incredible vocal talents to track 7 Mercenaries.

Rudimentary Peni – The Great War
The Great War is Rudimentary Peni's first album in 26 years. It's release has proved somewhat controversial, confounding critics and fans alike. Disappointing for some, celebrated by others it's a record whose origins is shrouded in mystery. Whilst Nick Blinko is clearly audible we have no idea if either Grant Matthews or Jon Greville contribute to the proceedings. In fact it's been suggested that Jon Greville has moved on and in his stead is a drum machine. The overarching theme of The Great War is Wilfred Owen's bleak anti-war poetry that laments the dreadful loss of life in WW1. Perhaps lacking the immediacy of their previous works it's a much more simple affair with a raw stripped down sound. Nevertheless there are echos of classic Peni.

Mankind? 'Discography'
I can't recall many records I've so eagerly anticipated as this one. Plans were being hatched to release a collected works 10+ years ago but boy was it worth the wait. I think the very first time I heard Mankind? was courtesy of Pedro Seabra and LP 'Pogo Attack' in 1994. Tracks Ridicule and Whose Life? are included here as are the Won't You Join The Army Now So You Can Fight… And You Can Die! 7" and splits with DIRT and Final Warning. Anarcho-punk par excellence. Stacey would later tour with DIRT and I feel extremely lucky to have witnessed their performance at The Robey (alongside Final Warning) in London in 1995.

Grand Collapse – Empty Plinths
Empty Plinths is Grand Collapse's third album and the first since 2017's Along The Dew. The band have made quite a name for themselves winning over live audiences here and abroad. I've been lucky to catch them on three occasions – in Bristol, London and Glasgow. Empty Plinths is totally relentless from start to finish. Energy fuelled. Crushing riffs. An instant classic. Eleven short stabs of furious thrash (plus an Icons of Filth cover) taking aim at police informants, blood junkies, and reflects on our colonial past and the refugee crisis.

Burning Flag – Matador
Matador is the first album from Burning Flag since MD left the band. MD may be a hard act to follow (2017's Izabel was one of my favourite albums of that year) but new singer Holly does a commendable job. Burning Flag are a different beast than I'm used to. Halifax's finest make a powerful noise putting the beat down on politicians, misogynists, pro-lifers and more deserving of their ire. Skinny has also done a supreme art job. Hats off to him. There's not much more to say than go out and buy it.

Matrak AttaKK – What The Fuck Is Under The Spotlight?
I had planned on going to see Matrak AttaKK in Edinburgh in June 2020 although the pandemic put paid to that wiping out all their UK dates. Boy was I disappointed. I'd been blown away by what I'd already witnessed courtesy of YouTube. Fast forward 12 months and the band releases their first full length album 'What The Fuck Is Under The Spotlight?' 11 tracks of raw in your face crustcore that takes no prisoners. Magic to these ears. Formed in Liège in 2014 Matrak AttaKK quickie became a firm favourite in this household.

Age of Woe – Envenom
I've been following frontman Sonny Stark's musical works ever since I first heard Massmord. Since then he's graced the ranks of Future Ruins (I was lucky enough to see them in Henry's Cellar Bar in Edinburgh in 2010) and Age of Woe. Formed in Gothenburg in 2010 Age of Woe have carved a niche for themselves. Parts death, parts doom and sludge they eviscerate all in their path. New album Envenom, their third since 2013, is a dark brutal affair and a worthy addition to their growing catalogue.

Fatum/Decade split
Like a hammer blow to the side of the head Russia's Fatum lay down four tracks of brutal stenchcore. Like the granddaddies of the scene before them (Deviated Instinct, Axegrinder, Hellbastard and the like) they paint a bleak, post-apocalyptic, nightmarish vision of an accursed world.
Decade wear their love of all things Discharge à la Grave New World and Shootin' Up The World on their sleeves. Their 2018 LP 'World Stops Turning' was a fabulous homage to the masters and this their second full length outing is no different. Raw and uncompromising.