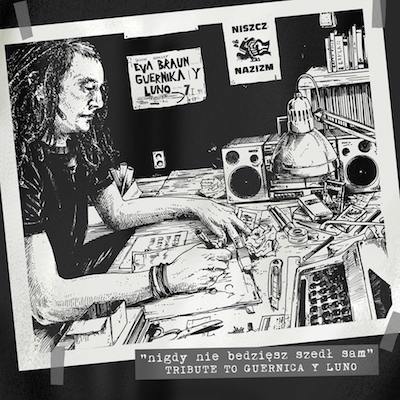 GUERNICA Y LUNO was a Polish anarcho punk band active between 1992 – 1996.  Just four years, many songs and a few recordings with a debatable sound quality.  This did not stop people from adoring them and rushing to see their gigs, singing along to clever, yet radical lyrics.  Just four years and a massive impact on a getting its shape DIY punk scene in Poland back in the mid-90's.
This compilation has three values – it replays you the greatest tracks of GUERNICA Y LUNO and it is a great occasion to familiarize yourself with Polish punk bands of various sorts.  Angry anarcho punk, crust, scremo, sludge, you name it.  Even hip hop is there.  Browse the catalogue of Polish punk: NON PRESIDENT, DRIP OF LIES, FIGHT THEM ALL, ZERUM, LIFE SCARS, GUANTANAMO PARTY PROGRAM, PRODUKT and more.
Oh, and there is an added value here is well.  20+ years later, you finally get a chance to listen to GUERNICA Y LUNO played and recoded properly, the way it is supposed to be.  You can't underestimate that!
PS.  The record is not out yet, but pre-orders are on, so book your copy now.  Available on LP or CD.  And I just learned the limited version LP is sold out after 5 days.
DIY Koło Records, Hasiok Records