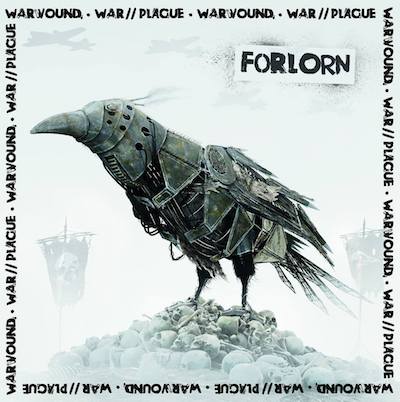 (review) WAR//PLAGUE / WARWOUND – Forlorn split 7"
It's a great little record, this.  Firstly because it features two great and very active bands and secondly because it is packed with lots of punk emotions, starting from sound and lyrics, finishing on a beautiful artwork done by Andy Lefton from W//P.  Now, this just proves that a white cover on a punk record works well.  Get the original copy and admire the artistic details.  It's a classic cover already.
Start the record with WAR//PLAGUE and mosh to the metallic sound of crust with a gloomy and terryfing vocals.  It's a great d-beat, though I would rather place it nearer to the swedish style.  It is fast where it needs to be fast, but then, all of a sudden – welcome to metal, welcome to mega-therion, if you know what I mean.
WARWOUND side gives you a discharge-style d-beat with very familiar Rat vocals.  Yes, you may say it's DISCHARGE meets THE VARUKERS but remember about two important facts: these songs (all of them I think, but not sure) were written in 1982-83 only recorded with a new WARWOUND line-up in 2015/16 (in the drummer's studio) and that a debut WARWOUND LP is out now and this tells you what these gentlemen are really capable of.  So treat this little record as WARWOUND tapas.  Simple but very tasty.  This is what tapas is all about, innit?
This 7" is on black vinyl and a 100 limited edition white vinyl.  Mine is white and it's cool.
(45 rpm)