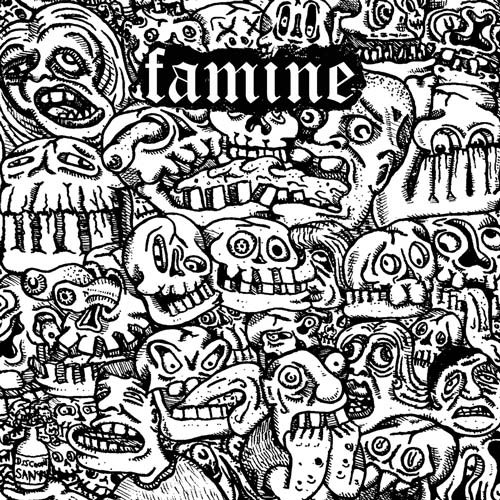 I will start with SATANIC MALFUNCTIONS who made quite an impact on me when I was a teenager.  Formed in the late 80's I managed to hear them when they'd been long gone.  They seemed to me more American style of noisy hardcore, than the British one.  For whatever reason but it appealed to me a lot.  And since they were not active at all they were forgotten.  Until a few years ago when the name returned with Ade (drums) being the only original member.  They've done one album so far and two good split EPs with AGATHOCLES and ACTIVE MINDS.  And this one, being my all time SF favourite now.  It's so fresh and rich in hardcore tempo mixed with some positive chaos on the drums and vocals.  While "Waste Away" may sound a bit Swedish, "Deny Responsibility" is pure UKHC to me, played the old school.  They are very fast, fun to watch live and supplying you with energy to live to the end of the day.  If you don't like them, I will drink vodka from your skull one day.
FAMINE are from Leeds and play grinding metal punk furiously fast without the grind sound you may know from the typical representatives of the genre.  It is so well recorded that it makes it easier to acquire and it doesn't leave you with the wall of sound approaching your ears when everything becomes one solid noise.  Very good stuff.
Both bands do not beat around the bush when it comes to lyrics hammering politicians, leather metal warriors and the system.  True punk record, this!  More!