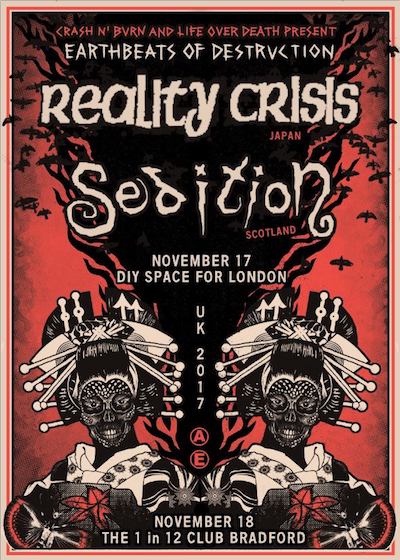 17th November in London (DIY Space) and 18th November in Bradford (1in12) will be the only opportunity to see SEDITION perform after many years along with REALITY CRISIS.
REALITY CRISIS from Nagoya play political Japanese hardcore punk and hold a reputation for devastating live shows. Dual vocals, crushing beats and solid riffs that echo the likes of Conflict as much as ENT back when they were both relevant.
Scotland's SEDITION have agreed to venture south of the wall for these two gigs. They should need little introduction having been around since 1988, playing a unique brand of primal, political hardcore punk. Their seminal EARTHBEAT recording in 1993 was, and still is, regarded by many as a classic. In more recent years live appearances have been seldom, last playing benefit shows in London in 2009 and in Bradford in 2015.
Other bands in Bradford: DOOM, CRESS, ANTI-SYSTEM, BRATAKUS.
Other bands in London: SPLIT VEINS, BRATAKUS
Ticket info for both gigs here.