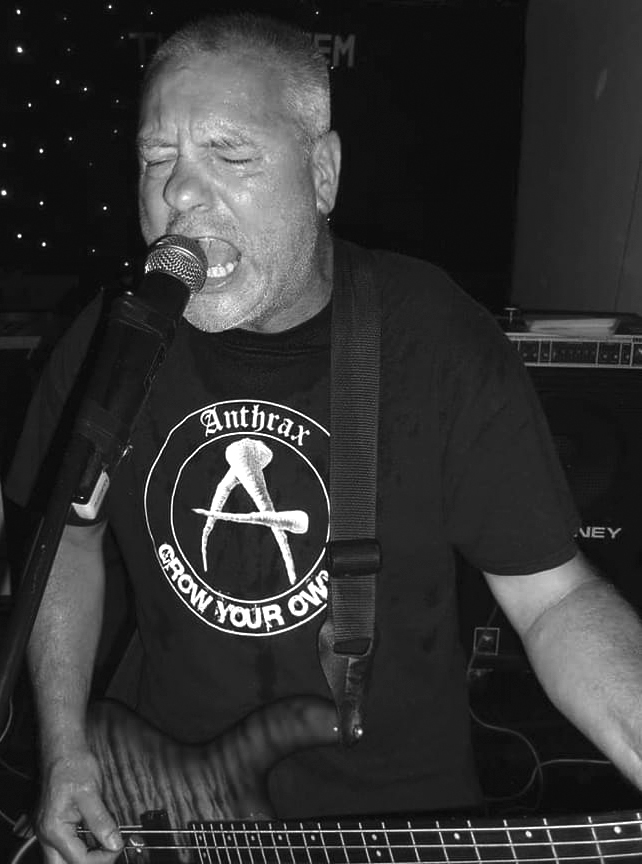 2020 WILL SURELY GO DOWN IN HISTORY AS A TERRIBLE YEAR. IT WAS MADE WORSE IN OCTOBER BY THE DEATH OF JIMI MAGUIRE, BASSIST AND CO-FOUNDER OF ANARCHO-PUNK BAND THE SYSTEM.SADLY, JIMI SUFFERED A VERY DIFFICULT FINAL COUPLE OF YEARS AFTER SUSTAINING A SEVERED SPINAL CORD IN A FREAK ACCIDENT THAT LEFT HIM PARALYSED. JIMI WAS FULL OF LIFE AND IN MORE RECENT TIMES HAD RESURRECTED THE SYSTEM.

ON A PERSONAL NOTE, THE SYSTEM WERE A HUGE INSPIRATION AND IN PARTICULAR, JIMI MADE A SINGLE-HANDED IMPACT, GIVING ME THE INCENTIVE TO PICK UP THE BASS AND LEARN TO PLAY.I SAW THE BAND PLAY MANY TIMES AND ALONG SIDE CRASS, FLUX OF PINK INDIANS, WAR-TOYS, OMEGA TRIBE, POISON GIRLS AMONGST OTHERS, THEY INFLUENCED ME AND HELPED SHAPE MY WORLD VIEW, WHICH STILL STANDS TODAY.

TO CELEBRATE JIMI'S LIFE, PLANS WERE MADE TO HOLD A TRIBUTE GIG IN WIGAN (JIMI'S HOME TOWN) BUT DUE TO THE PANDEMIC, IT HASN'T BEEN ALLOWED TO HAPPEN. I STARTED THINKING ABOUT AN ALTERNATIVE WAY TO HONOUR JIMI'S MEMORY AND ACHIEVEMENTS.

I HIT UPON THE IDEA OF A 'RE-IMAGINING' OF THE SYSTEM'S FIRST SINGLE, THE WARFARE EP. REGARDED AS A CLASSIC ANARCHO-PUNK RECORD, IT WAS RELEASED ON FLUX OF PINK INDIANS' FLEDGLING LABEL SPIDERLEG RECORDS IN 1982.

THE SONGS WERE RECORDED AT SOUTHERN STUDIOS, ENGINEERED BY JOHN LODER AND PRODUCED BY PENNY RIMBAUD (HIS DRUM-KIT WAS USED ON THE RECORDING). UPON RELEASE, THE RECORD SOLD VERY WELL AND IS NOW A SOUGHT AFTER COLLECTABLE.

HOWEVER, THE RECORD WAS ORIGINALLY TOUTED TO BE RELEASED ON CRASS'S OWN LABEL, SOMETIME IN 1982. I COULDN'T HELP THINKING HOW THAT WOULD HAVE TURNED OUT, HAD IT HAPPENED.

I PITCHED THE IDEA TO GRAPHIC DESIGNER JOHN MOFFET, ALSO GUITARIST IN SCOTTISH 80'S ANARCHO BAND THE DISTURBED AND HE AGREED TO TAKE ON THE PROJECT. I COULDN'T THINK OF ANYBODY BETTER QUALIFIED THAN JOHN TO CARRY OUT THIS DESIGN WORK AND I HOPE YOU AGREE THAT HIS WORK REMAINS AUTHENTIC TO BOTH THE BAND AND THE CRASS AESTHETIC.

THE PROJECT WAS MADE A REALITY AS A RE-ISSUE ON 7-INCH VINYL BY GARY BUDD AT GROW YOUR OWN RECORDS WHO PREVIOUSLY PUT OUT JIMI'S RESURRECTED VERSION OF THE BAND'S 'SLAVE TO THE MACHINE' ALBUM, RELEASED IN 2016.

IN NO WAY IS THIS 'RE-IMAGINING' OF THE ARTWORK INTENDED TO DETRACT FROM THE ORIGINAL RELEASE. IT HAS BEEN PUT TOGETHER WITH NOTHING BUT RESPECT, LOVE AND CARE AND WITH FULL APPROVAL AND COOPERATION FROM THE SYSTEM GUITARIST AND CO-FOUNDER, ANDY ATOM.

DAVID ARNOLD, APRIL, 2021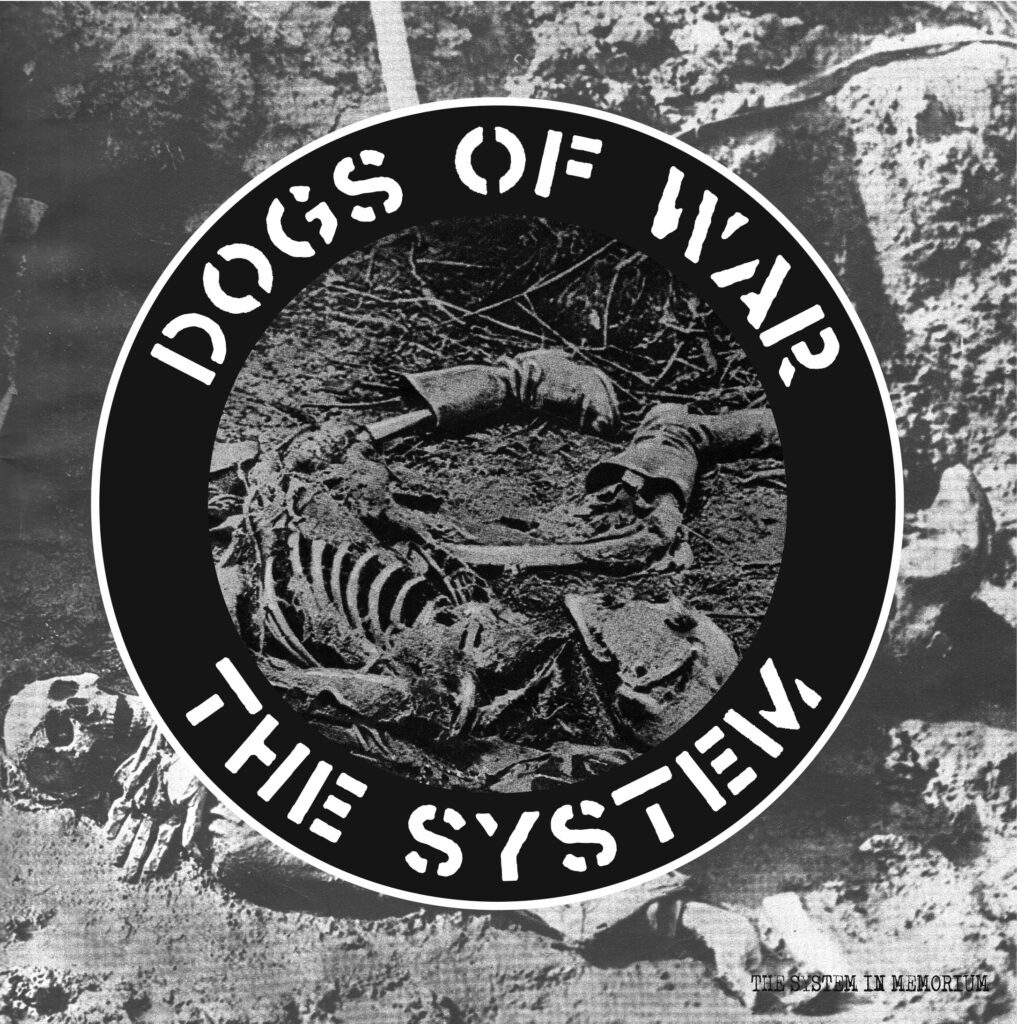 SPINAL UNIT ACTION GROUP CHARITY
ALL PROCEEDS FROM THIS PROJECT (AFTER PRODUCTION COSTS) WILL GO TO THE SPINAL UNIT ACTION GROUP www.suag.co.uk A CHARITY BASED IN THE NORTH WEST THAT PROVIDES SUPPORT TO PATIENTS, EX-PATIENTS AND THEIR FAMILIES AT A TIME WHEN IT IS MOST NEEDED.
THE CHARITY WAS ESTABLISHED IN 1973 BY THERAPY STAFF AND FRIENDS OF THE NORTH WEST REGIONAL SPINAL INJURIES CENTRE IN SOUTHPORT, UK TO HELP THE HIGHEST SURVIVING LEVEL (AT THE TIME) TETRAPLEGIC PATIENT IN THE UK, WHO ENDURED AN UNIMAGINABLE 20 YEARS ON THE HOSPITAL WARD. THE CHARITY WAS SET UP TO ADDRESS THE ISSUE OF WHERE PEOPLE GO WHEN THEY LEAVE HOSPITAL AFTER SUSTAINING LIFE-CHANGING INJURIES.

IN 1985 A VICTORIAN PROPERTY WAS ACQUIRED AT 6 WELD RD, IN SOUTHPORT AND ADAPTED TO PROVIDE A SUITABLE RESIDENCE FOR PEOPLE WITH SPINAL INJURIES THAT WAS NOT A HOSPITAL ENVIRONMENT. THE FACILITY PROVIDES ASSISTED-INDEPENDENT LIVING FOR 10 PERMANENT RESIDENTS AND CAPACITY FOR SOME SHORT TERM RESPITE.

JIMI NO LONGER NEEDED AN ACUTE HOSPITAL BED AND IT WAS HIS WISH THAT HE WOULD TRANSFER TO A PRIVATE ROOM AT WELD RD AS A TEMPORARY MEASURE, WHERE HE COULD RECEIVE 24HR CARE, PRIOR TO FINDING APPROPRIATE ACCOMMODATION IN BLACKPOOL WHERE HE WAS THEN BASED, AS HIS FIRST-FLOOR FLAT WAS NO LONGER SUITABLE.

SPINAL UNIT ACTION GROUP (CHARITY REG #1101507) RELIES ENTIRELY ON DONATIONS AND FUNDRAISING EFFORTS.
PLEASE DONATE AT: www.justgiving.com/spinalunitactiongroup
TO MARK THE RELEASE OF THE REISSUE, A SHORT INTERVIEW WAS CARRIED OUT BETWEEN DAVID ARNOLD AND ANDY ATOM ON 3/3/21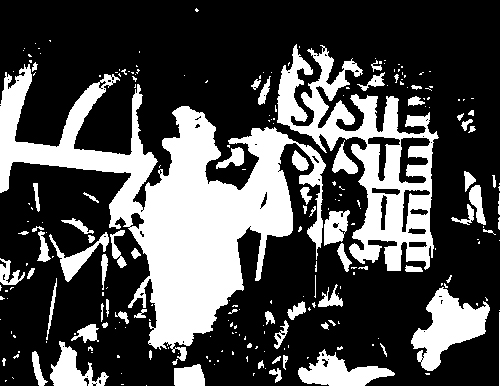 DA: How did the recording of 'The Warfare EP' come about?
AA: Initially, the offer was for it to be on CRASS RECORDS but then it was debated whether it should be on CRASS or SPIDERLEG. The 'Neu Smell' record by FLUX OF PINK INDIANS had recently come out and at that time CRASS RECORDS had a pretty full schedule of releases for the first half of 1982. John Loder at Southern Studios was already handling affairs for Crass Records and he had decided to help FLUX set up their own new label SPIDERLEG RECORDS with their royalties from 'Neu Smell'. It was an offshoot label, really. We went with SPIDERLEG as that guaranteed a speedier release date. Sometime before the offers to do the EP, we had played with POISON GIRLS and ANNIE ANXIETY in Winsford, Cheshire, which came about through our association with St Helens CND. I think that may have helped to bring us to the attention of CRASS.We had played with FLUX at the Marples Club in Sheffield. It was the first time they had seen us and we got on immediately. They offered to help us to do a record.This was also the night both THE SYSTEM and FLUX got asked to contribute tracks to the 'Wargasm' compilation on PAX RECORDS. The label owner Marcus Featherby was at the gig and we stopped at his house that night. THE SYSTEM submitted the track 'Their Decisions' and FLUX did a version of 'Tapioca Sunrise' which our drummer Jimmy Brown (aka Spider) played drums on. Sadly, Jimmy died back in 2005.
Shortly after that first gig with FLUX, a date was set to go down to Southern Studios to record, with John Loder as engineer. It was arranged that Penny Rimbaud would produce it.

DA: What are your memories of the recording session?
AA: I honestly can't remember too much about the actual recording. I do remember that once the studio time was booked we had to travel down to Wood Green in London from Wigan. We decided that the night before we would go out for a few drinks and then make the journey through the night, as we had to be there for 8am. A friend drove us down in his car. It was January and it was thick with snow. I remember stopping at the services and noticing the ice on the inside of the windows, cars weren't so good back then. I remember getting to the studio 5 minutes before we were supposed to arrive, which is amazing really under the circumstances, it was hard to find as it was just a house. As we travelled down in a car, we just took our guitars and Penny was good enough to let us use his drum kit. For a short time, FLUX also had a house just around the corner from Southern Studios and we used to stay there when we went down. Sometimes, if FLUX were playing up North and THE SYSTEM were playing down South, we would just swap houses.
We discussed going with CRASS RECORDS quite a bit because we had played quite a few gigs with them and we'd known them for some time. One of the best things I probably ever did was going down to Dial House.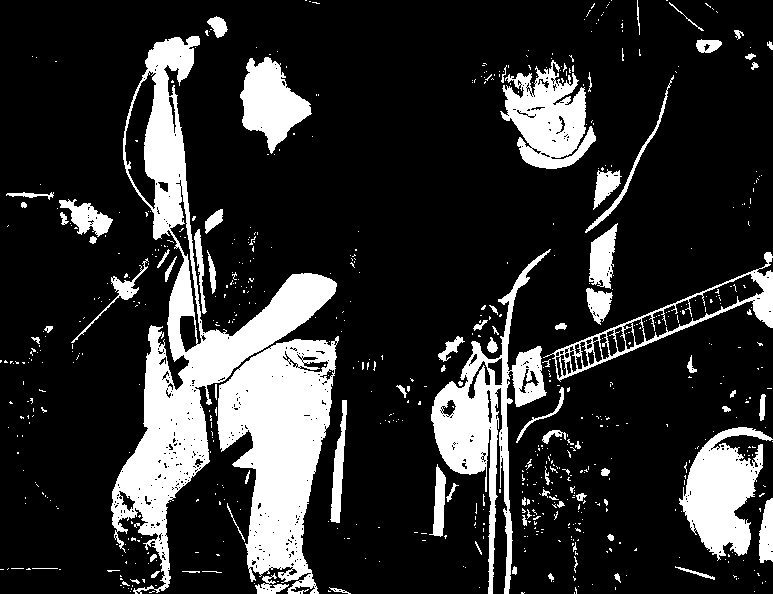 DA: Did seeing first-hand how CRASS did things, how they lived and operated inspire you?
I remember them getting treated like trash by the music press, maliciously labelled as just a bunch of old hippies with a capitalist agenda. There was even a rumour they had their own swimming pool!
AA: If they bought a swimming pool then it must have been offset against the cost of putting a curtain around the toilet to give some privacy! It was just a little country cottage in North Weald, just like any other place really…but inside it was a bit different.CRASS were a really big influence on me. I read the review for 'Feeding of the 5000' and went straight out and bought it. It was rare for me to do that and I wasn't disappointed. I made the decision to try to see them play whenever possible, which led on to playing gigs with them.

DA: Maybe it's an assumption but I'd raise the point that a lot of 2nd generation bands were musically influenced by CRASS and their contemporaries but you guys were 1st generation punks with your roots going back beyond the first wave of punk, as far as Glam Rock and even Prog?
AA: When I was at school, the first band I really got into was HAWKWIND, right up until the 'Roadhawks' album. I could already play guitar before punk happened.

DA: As a fan of THE SYSTEM it was hard not to notice you could all really play. You obviously had already started on a musical path. Jimi was a particularly good bass player. He could play scales and strum heavy bass chords that fattened up your sound. Paired with Jimmy Brown's drumming, it created a formidable rhythm section!
AA: Thinking back now, if we had recorded an album along the same lines as the 2 singles, I don't think it would have been very good. Looking at where the CRASS and FLUX albums were going I don't think I would have been too happy with the result.
DA: I guess you are referring to 'Yes Sir I Will' and 'F*****g C***s Treat us like P****s'?
AA: I think it was a case of 'let's try and upset people even more. We've got all these people who like us…and we are not comfortable with that… Let's really irritate them by making it unlistenable.' I wouldn't have been happy if our recordings went out like that. In fact, the demos we did record in preparation for the album are not too far from how I would have liked them to be.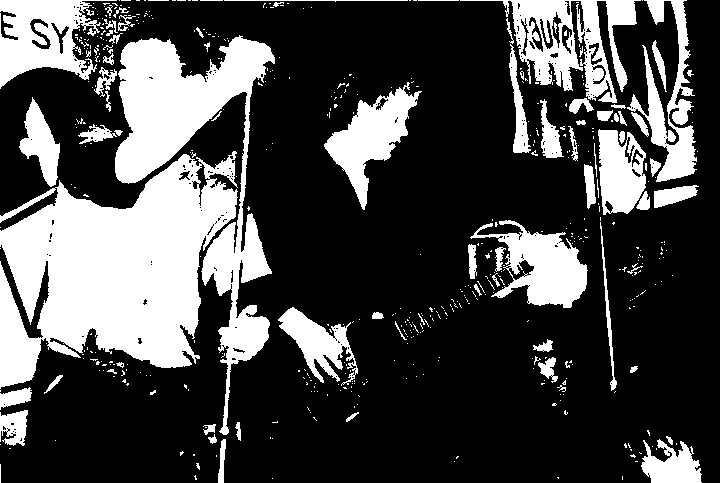 DA: Let's talk about the early days and how you met Jimi Maguire.
AA: I'm not 100% sure. I think I met him at a punk disco at the King William pub in Platt Bridge. That would have been in 1977. There weren't many punk records so they would play the A-sides, then the B-sides and then the A-sides again, along with some Stooges, Roxy and Bowie. We tried to get a band going called THE CONDEMNED. It never amounted to much but Jimi came to a couple of practices at my mum's house in Downall Green. We practiced out the back in the wash-house. In fact we did our own version of 'Garageland' by THE CLASH, only we sang "We're a wash-house band" That band soon turned into the THE ATOMZ. We did a recording sometime in 1978. I played bass, with Mackie on guitar and Jimi on vocals. We used to practice in the drummer's house (Paul White RIP) it was in this cellar on Darlington Street, Wigan. We were always getting kicked out and one time we were walking back to the train station and stopped into the Derby Arms pub. We had our guitars with us and the landlord figured out we were a band and asked us if we wanted to start practicing upstairs…without even hearing us! All we had to do was organise a 'punk' gig once a month in the pub.

DA: Was this before the opening of 'Trucks'? (Renowned Wigan punk venue on King St. West)
AA: Around about the same time. There was also another venue called 'The Bierkeller' off King Street. That was going as a punk club before 'Trucks'

DA: Who was the DJ?
AA: Me! (laughs)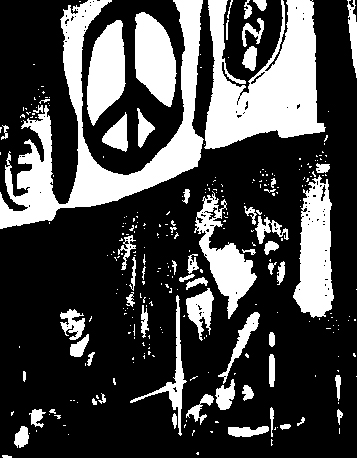 DA: So how did 'Trucks' come about?
AA: It sort of phased in from The Bierkeller really. It began to shut down and everybody migrated to 'Trucks' as they had started to play punk music. THE ATOMZ played our first gigs at 'Trucks'.Around that time we also played Lowton Youth Club with LETHAL OBJECTS, with soon-to-be SYSTEM members Withy and Jimmy Brown. The only other gig THE ATOMZ played outside of the Wigan borough was in Southport. It was just us, with no other bands. It was pretty busy and a bit mental.It was at the Scarisbrick Hotel, right on the sea front. Jimi Maguire worked as a greens keeper at Haydock Golf Club, it was something to do with his boss having an association with the owner of the hotel. Not very punk but that's how it happened.

DA: So THE ATOMZ meet the LETHAL OBJECTS at Lowton Youth Club?
AA: Yes, around the same time both bands ran out of steam. There was only a limited amount of local people with shared interests, so we just got together, Jimi, Mackie and me from THE ATOMZ and Withy (vocalist) and Jimmy Brown (drummer) from LETHAL OBJECTS. We formed THE SYSTEM. I moved from bass to guitar and Jimi took over on bass. For the first few months we had 2 guitarists, until Mackie left to go travelling.When we very first got together with THE SYSTEM, nobody would let us set up a drum kit. We would practice in my bedroom and Jimmy Brown used to play the back of a fan heater with his hands.We were very lucky because everybody played an important part in the band. Jimi was really dedicated to it. He also always had good equipment. I used to go to his house in Haydock and the two of us would write the songs and work stuff out. It minimised rehearsal time and it eventually got to a stage where we rarely rehearsed as a full band. We were gigging a lot and if we had something new, we'd work on it during the soundcheck and then maybe play it the same night. You could just throw it at Withy and Jimmy and they could just do it. It worked very well, really. 'Dogs of War' was one of the first songs we wrote.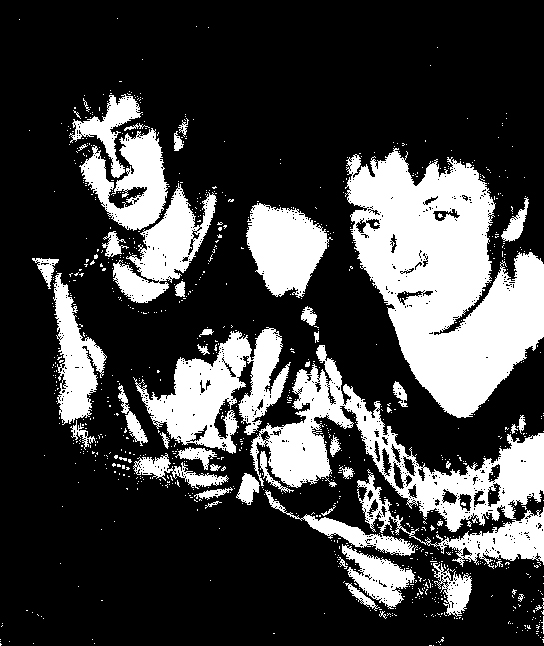 DA: When you are in a band for any length of time that travels around to play gigs you can become very close, is that fair to say?
AA: Once we became THE SYSTEM, after Mackie left, it definitely got more serious. It was a case of us all being really into it and believing in it. We all knew what needed to be done. So there was always some 'give and take' with each other. We got to a position where people were coming to see us from outside of the area. It was no longer just a local event. We also loved to travel to play gigs. When you are young, you don't care where you sleep, under tables in squats, it didn't matter.
DA: Any lasting memories from THE SYSTEM days?
AA: Something that sticks in my mind is when we played the White Lion in Putney. It was a Sunday and we went down on the train. I remember wheeling my amp across Putney Bridge. We set up and they had already started charging an admission fee. We did a soundcheck and then the police turned up. Facing the venue was Putney St. Mary's Church and the BBC were in there recording SONGS OF PRAISE. They were picking us up as background noise and we were ruining their session. We had to cancel the gig and give everybody their money back. To add insult to injury, we also got all our test pressings stolen.Another strong memory for me was whilst we were recording our 2nd EP; we were treated to hearing the newly recorded, yet-to-be released CRASS song "How Does It Feel To Be The Mother Of A 1000 Dead?" It sounded immense over the studio speakers.

DA: The concept for the charity reissue is that your first record could quite easily have been released on CRASS RECORDS?
AA: It nearly was.

DA: I think had that happened at that particular moment in time, it might have sent you on a different trajectory?
AA: Quite possibly. I think the band might have continued a bit longer and we could have put our energy into a properly recorded album rather than the 4 tracks for the 2nd EP and the demos… but we may have insisted on recording it somewhere closer to home.

DA: It would be easy in hindsight to say "Coulda-Woulda-Shoulda" but the deal that CRASS offered new bands was their support and help for one single only, which means your 2nd EP "System Is Murder' might not have ever happened and you could maybe have gone straight into recording an album.
AA: At that time they were actually still financing the SPIDERLEG label. That's what CRASS did, they were very selfless about it… it was all about the music and getting the message out.Early on, we submitted the track 'Their Decisions' for inclusion on the CRASS RECORDS 'Bullshit Detector' compilation but we didn't get on it. I could be wrong about this but I think it was the same recording we gave to PAX for the 'Wargasm' comp. The track starts with an unusual fade-in and as far as I can remember, the fade-in is not actually us. It's somebody else's recording; it was the last band that had been in the studio!Also, there is an unlisted track on some of the 'Wargasm' pressings. It wasn't on them all. The track was a collaboration between THE SYSTEM and THE INSANE, recorded at the same time as 'Their Decisions'. It's called "We Don't Wanna Fight Your Wars." It was me playing bass and Jimi on vocals then Simon Middlehurst on guitar. I can't exactly remember who drummed on it but most probably it was Bambi. The weird thing is we probably would not have ended up on SPIDERLEG if it wasn't for Simon and Bambi from THE INSANE joining FLUX, admittedly, only for a short period of time.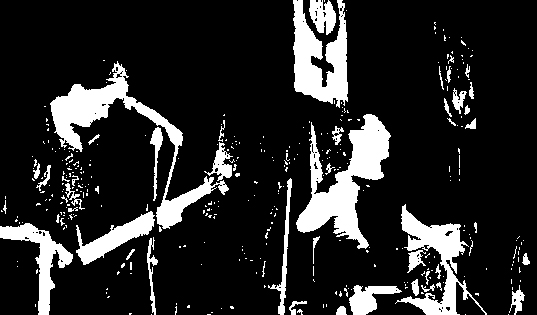 DA: Do you have any regrets?
AA: None whatsoever.

DA: I asked Jimi the same question when I interviewed him back in 2012 and he said exactly the same, "Ye canny have any regrets!"
AA: It would have been nice to go with CRASS but SPIDERLEG was a new venture that to us, felt like it was still in the CRASS family. We had become close to FLUX as we were spending more time with them and so we felt some loyalty to them.Thinking back, one thing I do regret is missing out on a European tour. SPIDERLEG organised it for SUBHUMANS and THE SYSTEM. The dates were booked and we were all set to go…Then SUBHUMANS vocalist Dick Lucas got hit by a bus and the tour was cancelled.

DA: Talking about accidents, we should mention what happened to Jimi. He suffered with back problems for years and for relief he had an inversion table. It's a piece of equipment that allows you to hang upside down, using gravity and your own body weight to decompress/relax the spine. No one is sure exactly what happened but something went wrong and he ended up severing his spinal cord in his neck, causing him to become paralysed.
AA: I went to see him in Preston hospital shortly after the accident. At first he was just a mess, really. He'd had various surgeries and was suffering from recurring infections. I guess that mentally he was still coming to terms with what had happened. He was completely paralysed from the neck down apart from being able to have some limited movement in one arm. However, the last time I saw him, he seemed a lot better. He had been moved to the Spinal Unit in Southport. I turned up unannounced. He was surprised and glad to see me and we had a good laugh. Then Covid started and that ruled out any further visits.

DA: Coincidentally, my sister works on the spinal unit and was his rehabilitation therapist. The plan was to try to get him off the hospital ward and into the SUAG residence where he could have some level of independence but still have assisted living. This was to be a temporary measure until his local council could find him appropriate accommodation.
AA: Last time I saw him he was in fine spirits. His head was alright, he still had his sense of humour.When Jimi got THE SYSTEM back together a few years back, I think it was really good for him. He was a bit of a lost soul at the time and it gave him a direction. He asked me to get involved but I wasn't bothered at the time.

DA: Do you have any music-related plans for the future?
AA: I'm looking forward to joining ANDY T and his band to play THE SYSTEM songs under the name THOUGHT CONTROL, once restrictions are lifted.

MANY THANKS TO:
GARY BUDD AT GROW YOUR OWN RECORDS FOR MAKING THE RECORD A REALITY.
JOHN AT OVERGROUND RECORDS FOR HELP WITH AUDIO.ANDY T FOR ADVICE AND SUPPORT.
PENNY RIMBAUD FOR HIS BLESSING AND PERMISSION TO USE THE CRASS LOGO/LIKENESS FOR THIS PROJECT.
IN MEMORY OF JIMI MAGUIRE AND JIMMY BROWN (A.K.A. SPIDER). DOGS OF WAR-THE SYSTEM