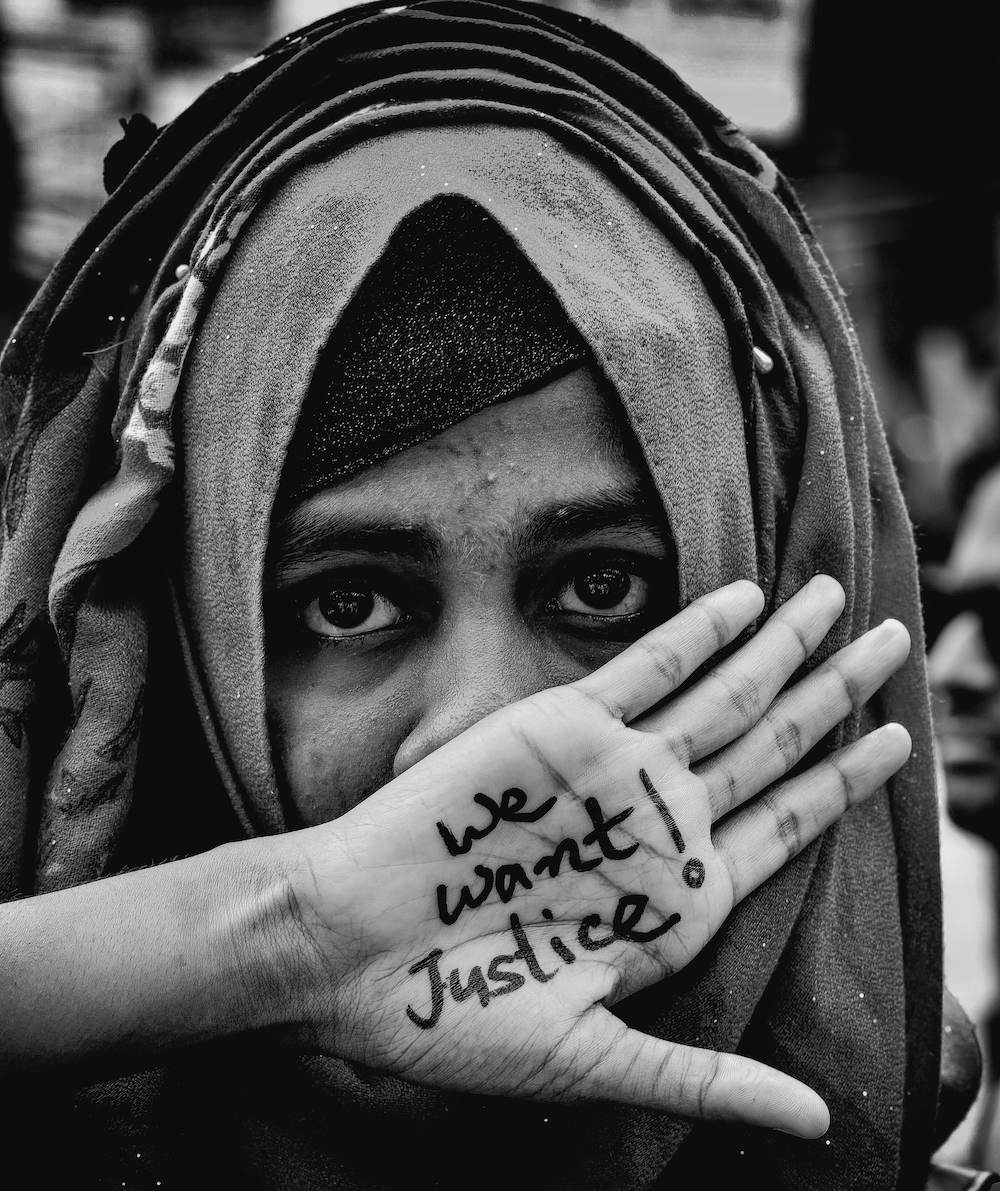 The first world's got greedy, we're consuming it all
The third world's got hunger and military control
This unequal balance is a master plan
One gets rich from the other's land
They've got it all worked out
And we give our consent

Chumbawamba, Invasion
The background
When Chumbawamba sang this verse of "Invasion" in 1986 on their first full length album entitled "Pictures Of Starving Children Sell Records: Starvation, Charity And Rock & Roll – Lies & Traditions" they opened our eyes to what multinational corporations did in the underdeveloped countries. We all got ourselves educated on multinationals from oil to soft-drink companies. We discovered their deadly practices from the exploitation of lands to the exploitation of workforce. Shell, Coca-Cola and others became our enemies. Punk was about liberating those oppressed, after all. At that time, punk scene still being a fresh DIY creation, was far from using multinational companies' products, if you did not count the petrol bands bought to tour the world.
Fast forward to the present day, nearly 30 years later, and punk scene is flooded with tons of bands and propaganda merchandise at gigs, festivals and in online stores. Almost each band gets their artwork printed on t-shirts, hoodies or long sleeves. Multiply that by another ton of metal, rock whatever bands both independent and mainstream, and you end up with multinational corporations controlling the merchandise business worldwide, including the punk scene. I looked into my wardrobe a few years ago and discovered all my t-shirts were made by Fruit of the Loom (FOTL) or Gildan, as these two multinationals are mostly favoured by the punk scene, For one reason only: the price. It's easy: you pay something like 3 euro for a whatever colour t-shirt you want including a double sided print and sell it for 10 euro or so. All on Gildan or FOTL. Brilliant. Or is it?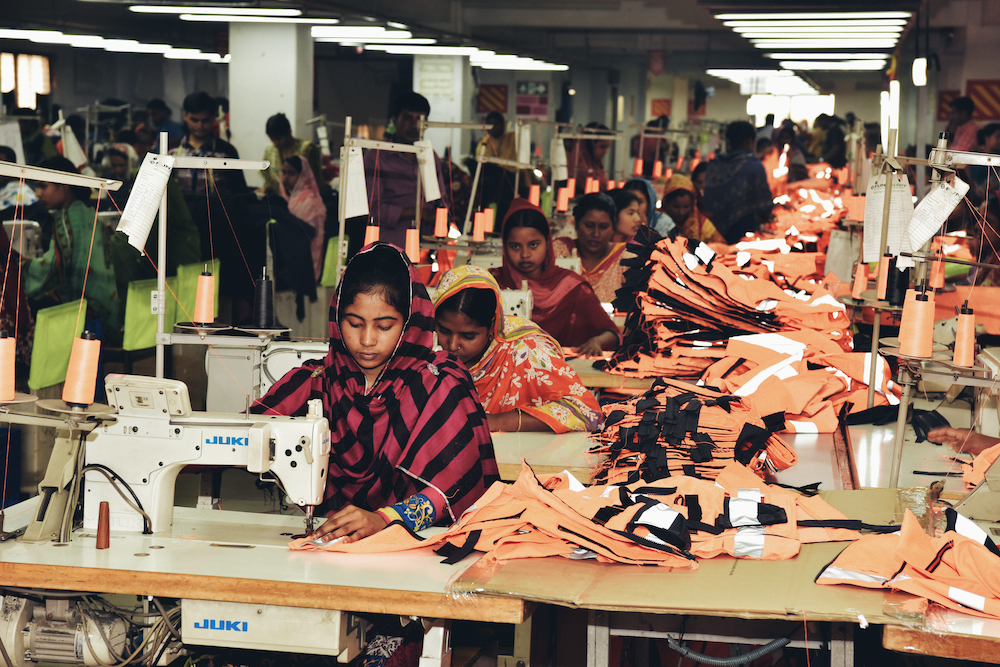 The facts
Yeah, but what's wrong with that, you may ask? Well, they are the multinational companies punk scene hate (or hated, shall I say) so much, and they are no innocent young things. They are now classified as companies that use sweatshops to produce their garment. What are sweatshops? The American legal definition states:
Sweatshop is a workplace where workers are subject to extreme exploitation, including the absence of a living wage or benefits, poor working conditions, and arbitrary discipline, such as verbal and physical abuse. Sweatshop is a business where the employees are overworked and underpaid in extreme conditions.
https://definitions.uslegal.com/s/sweatshop/
And it's not only your Discharge and Amebix t-shirt on Gildan or FOTL that takes part in the above. It's hundreds of other companies producing our everyday products such as clothing, toys, shoes and furniture – including many designer brands. The following companies are still known to be using sweatshops to produce their sought after products in 2021: Aeropostale, Adidas, Asos, Disney, Forever 21, Gap, H&M, Nike, Primark, Uniqlo, Urban Outfitters, Victoria Secret, Zara. But in this article I will focus mainly on Gildan and FOTL as they are the two main drivers for the punk merch on the DIY punk scene worldwide.
They've got it all worked out for Central America
They've got it all worked out for Africa
And in our naivety we believe myths and overconsume
And give them our consent
Dying in the shadow of the USA
"Let them eat bullshit, make thе land pay"
Make a fast deal with the local еlite
Then substitute cash-crops where once grew wheat
Build a cycle of dependence on a starvation-diet
With food as a weapon, workers stay quiet
So, your punk t-shirt is probably the result of child labour in very dangerous conditions, exposed to chemical hazard for very very little or no pay at all. Happy? If not, why don't we see Fuck Gildan patches on punk vests as we used to see Shell is hell back in the 90's? Just as I type this, the counter on TheWorldCounts.com is telling me that 135,790 hours of child labour has been done this year and that 64,403,746 dollars of profit has been generated by the slaves worldwide. Now, these numbers are obviously shocking but very little facts are behind them. So I went on the internet deeper to find out whether sweatshops have a guilty conscience. What about the difficult working conditions or child labour or minimum pay? It didn't take long to find out the reality of sweatshops that are behind brands like Gildan or FOTL.
85% of workers in sweatshops are young women aged 15-25 years old
22 million children die annually due to the poor conditions within sweatshops
1/6 of the children in the world are employed at sweatshops
On average, sweatshop workers only make an income of 200$ a year. This is equivalent to 3 shifts at a minimum-paying job in North America.
There is an estimated 250 million kids working in sweatshops worldwide.
Women sewing NBA jerseys only make 24 cents per garment that will eventually sell for $140.
Sweatshops force all female workers to take pregnancy pills. Therefore preventing them from maternity leave
In 2000, more than 11,000 sweatshops in the U.S. violated the minimum wage and overtime laws, while over 16,000 had broken health and safety laws.
Workers are often locked in the factories, forced to work through the night.
People work very long hours and often there is no overtime meaning the hourly wage can be as low as under 20 cents.
In a survey from Benin, West Africa, 45 percent of cotton farmers said they used pesticide containers to carry water, and 20–35 percent used them to hold milk or soup.
Another study found that 86 percent of households in the cotton industry stored their pesticides in their bedroom.
It is estimated that 1.3 million children in Bangladesh are working full-time in order to help support their families.
Physical, mental, emotional, and even sexual abuse is extremely common.
In America alone, an average American family spends around 2000 dollars on apparel per year. The amount of wages that went to produce this apparel? 55 dollars. Are you now asking yourself the same question I am asking myself, that is: how much, in the same currency, punk and propaganda artwork ends up on sweatshop produced t-shirts annually? No one knows obviously, but from the above example one can easily deduce that those who really should be benefiting from the production of the garment are at the end of the pay roll and get just a scrap. The rest is taken by the greedy corporations. And punk scene is part of it. Face it.
So what does your t-shirt label really say?
Gildan
Revenue 2015: 1.95 billion dollars
Net Income 2015: 304.9 million dollars
Number of employees 2015: 42,000
Sweatshops in: Honduras, Nicaragua, the Dominican Republic, the USA and Bangladesh
(source: Wikipedia)
A random sin pick: A mass firing took place in the midst of remediation efforts with a factory union; Gildan has still failed to complete agreed upon remediation steps with the Workers Rights Consortium.
Fruit of the Loom
Revenue 2018: 1.8 billion dollars
Net Income: n/a
Number of employees 2015: 32,400
Sweatshops in: Honduras, El Salvador, Cambodia, China and about 20 other countries
Workers Rights Consortium
(source: Wikipedia)
A random sin pick: Investigation found compelling evidence that at least five workers were terminated in retaliation for participating in a meeting with representatives of a union federation. An additional worker was fired after stating that she believed workers had been fired for attempting to form a union.
In 2009, college students across the United States, Canada and Britain persuaded their schools to suspend their contracts with Fruit of the Loom after it was reported that the company was shutting down its Honduras factory amid workers' plans to unionise, New Internationalist reported. Nearly 100 U.S. colleges suspended their contracts, and the boycott cost Fruit of the Loom an estimated $50 million in the U.S. alone. The boycott is one of the largest ever to be organised by students.
https://www.gobankingrates.com/money/business/when-consumers-boycott-businesses-does-it-work/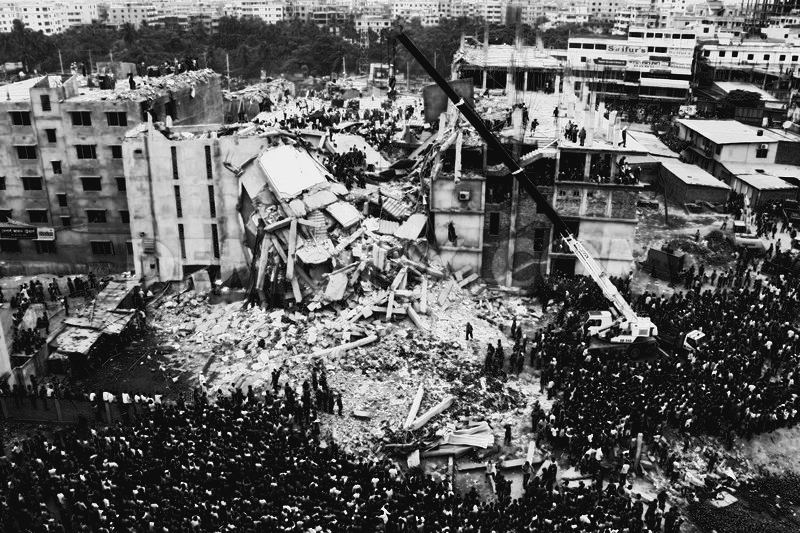 The Rana Plaza Disaster
And multinational names have blood on their brands
From taking an interest in misused lands
Del Monte, Tate & Lyle, Ralston Purina
Coca-Cola, RTZ, and Unilever
All packaging lifestyles for the glamorous west
Expand the company, exploit the rest
The world learned about the unbearable conditions in which workers have to face in the ready-made sector in Bangladesh. On 24 April 2013 the collapse of the Rana Plaza building in Dhaka, Bangladesh killed 1,132 people and injured 2,500. The building housed five sweatshops for garment production. Just a few months earlier 122 workers lost their lives in other garment factory trapped inside a burning building in Dhaka. Since then, more than 100 other accidents have occurred killing about 30 and injuring about 500 workers.
Such accidents are the result of very poor working conditions in buildings that lack basic infrastructure and do not meet any construction standards. That is why corporations locate their sweatshops in countries where labour inspection system is poor and there are no law enforcement mechanisms to favour workers. This means very cheap labour at a very low expense. All for your pleasure.
The Rana Plaza Aftermath
It's we who write this history
We who guard the money-tree
We support the companies
We stole the colonies
And when the system starts to crack
We'll have to ready to give it all back
And when the system starts to crack
We'll have to ready to give it all back
And when the system starts to crack
We'll have to ready to give it all back
So what can you and I do to not be part of it, and perhaps, change the course of action, so less and less sweatshop garments are produced until they finally disappear? As usual, the power is in the hands of the consumer. But the end consumer needs to have the alternative. More and more ethically sourced and produced clothes are starting to pop up and for us, punks, there is a good alternative called No Sweat, based in UK. It's a company that established partnership with a worker-owned factory in Bangladesh called Oporajeo, set up by the survivors of Rana Plaza distaster. The conditions they have established provide an example of how the garment industry should be run. The workers at Oporajeo earn wages high above the minimum, plus a benefits package that provides them with a higher standard of living, but most importantly of all, the workers have democratic control over their workplace. In this way, you, the end consumer have a choice. You can now choose between putting your band logo on the sweatshirt or a no sweat shirt. The choice is yours and I am glad there are more and more alternatives like such.
I do occasionally have a conversation with punks on ethically sourced t-shirts when I ask them why they still do Gildan. The question I am asked is not "what impact will I be making" but "how much will I be paying for my no sweat tee". It is a bit sad but I do understand it. Years of habitual purchases of sweatshirts put people in their comfort zones. So when the topic of costs arise and when they learn the no sweat shirt is more expensive they say "no thank you, I will not make enough profit". Really? I know we don't want to be losing money producing merch but should we be looking at it from the margin perspective? I don't think so. Well, you see, if a no-sweat t-shirt is 1-3 euro more expensive than your usual FOTL, it is the REAL cost of such garment. It includes workers' rights, safety, health and pay. Isn't it a lot for just 1-3 euro more? So look at the FOTL price as too low to ensure the proper conditions workers need to be having. It's a bad price. Price sullied with blood. Do you really think your feminist Gildan t-shirt is making an impact? Think next time you buy a t-shirt with a freedom fighting slogan. I am not telling you to boycott such t-shirts (or maybe I am). I am telling you to re-evaluate your buying habits at gigs and festivals or when you buy online. I am telling you the alternative is here and it's you who can make a change. Just like you did when you decided to go vegan. You had to reinvent your eating habits to suit your new self. It worked, didn't it? It's time to do it with your clothing. The decision is yours. I made mine a long time ago.
And the cycle of hungry children
Will keep on going round
Until we burn the multinationals to the ground
Join me for Part Two of the series where I talk to No Sweat people about how they work, how they co-operate with Oporajeo in Bangladesh and what you can do to make a change.
Resources and further reading:
Why We Don't Sell Gildan T-Shirts
https://ethixmerch.com/anvil-gildan-hanes-fruit-of-the-loom/#1492483137443-5283fc12-d485

8 UK universities boycott Fruit of the Loom in solidarity with workers
https://www.indymedia.org.uk/en/2009/11/441200.html?c=on

Are sweatshops wrong?
https://www.debate.org/opinions/are-sweatshops-wrong

Are your clothes made in sweatshops?
https://www.oxfam.org.au/what-we-do/economic-inequality/workers-rights/are-your-clothes-made-in-sweatshops/

Bangladesh Is Burning And Sweatshops Are The Fuel
https://www.forbes.com/sites/davidvolodzko/2019/03/05/bangladesh-and-the-fire-next-time/?sh=6936abef2ca1

37 Shocking Sweatshop Statistics
https://brandongaille.com/36-shocking-sweatshop-statistics/

Search your favourite fair trade brand
https://directory.remake.world/home-directory