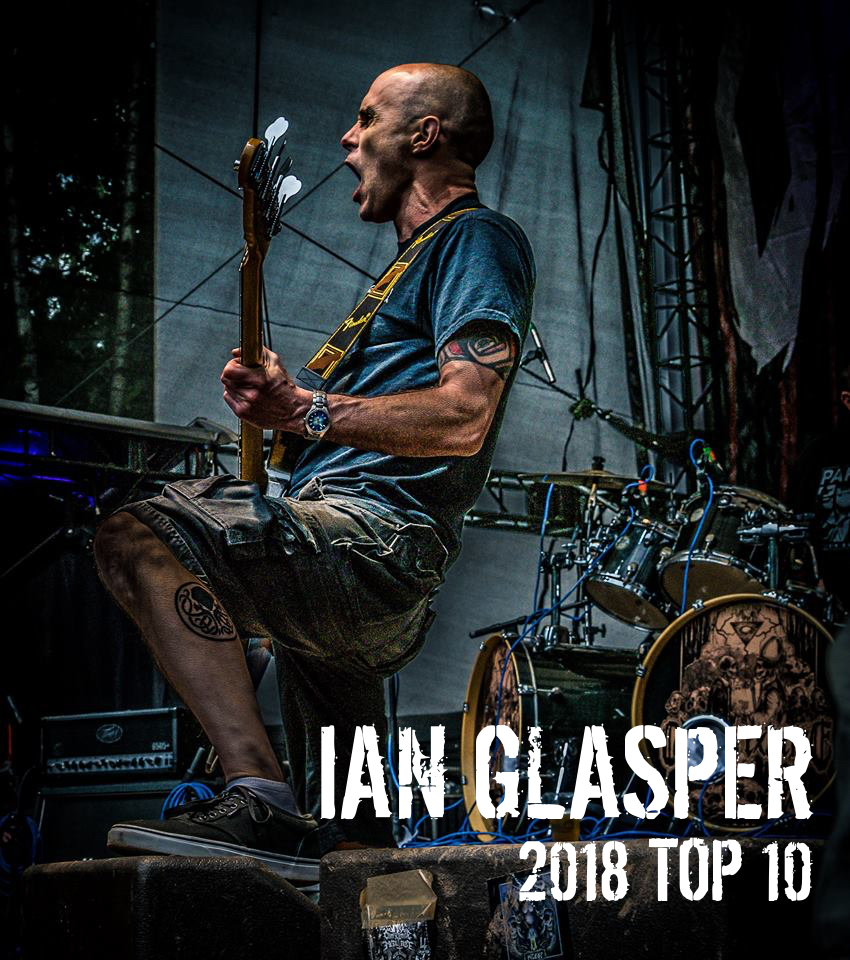 2018 TOP 10 by Ian Glasper
Ian Glasper (interviewed here) – bassist for the great WARWOUND (interviewed here) and bassist for DECADENCE WITHIN, STAMPIN' GROUND or FLUX OF PINK INDIANS in the past, just to name a few bands, contributor to TERRORIZER magazine and a book writer.  He wrote 5 books on punk, hardcore and thrash metal scenes in UK and his latest book, "Contract In Blood: A History Of UK Thrash Metal" is available through Cherry Red Records.  Ian kindly gave us his TOP 10 albums of 2018.  Check them out if you haven't yet.
Here are ten of the releases I really rated in 2018; they are in no particular order, and I'm sure there are others that I've inexcusably missed, but that's what happens at my age when you're put on the spot! As usual, it's a mixed bag of styles, but generally leaning towards the dark, heavy and metallic, which is the naughty corner I've squatted in for most of my 'adult' life 🙂
Tragedy 'Fury'
A new MLP from Portland's finest, who wrote the book on melodic D-beat crust, and of course it's heavy as fuck, and really fucking angry.
Natterers 'Head In Threatening Attitude'
Hands-down the best band in the UK at the moment, their debut album recalls the Nerve Agents at the height of their powers, and 'Deadmen Can't Catcall' is the sassiest tune I've heard in an age.
Burning Flag 'Izabel'
Okay, I think this might have come out at the end of 2017? But it wasn't properly released until 2018, so fuck it, it's going in my list. Great band, great people, and a great record – really powerful, and they never disappoint live.
Voivod 'The Wake'
One of my favourite bands since I first heard 'War And Pain', with 'Killing Technology' one of my personal 'top ten of all time' records; yes, Voivod have mellowed a bit over the years, but they are still utterly original and relentlessly creative, and the new album is yet another masterpiece of punky cyber/prog/metal.
War//Plague 'Into The Depths'
Incredibly heavy and savage metallic punk… everything the new Antisect should have been.
Judas Priest 'Firepower'
The Metal Gods! Enough said really, but this is a proper return to the form of 'Painkiller' and the gleaming Andy Sneap production captures the grit in every riff. 
No Fun At All 'Grit'
Talking of grit, who would have thought a new album from No Fun At All would be this good? I don't have a high tolerance for pop punk, or melodicore, or whatever you want to call it, unless it's done really fucking well, with some intelligence and a hard edge under-pinning it – this ticks all the boxes though.
Therapy? 'Cleave'
Great friends for many years now, with their feet still firmly on the ground after all their years of success (both mainstream and underground, but always on their own terms) and a band that genuinely know how to write SONGS. You know, proper tunes that stick in your head and have you humming them in the shower. Probably the only band I listen to that do that. 
Orphanage Named Earth 'Re-Evolve'
So-called 'romantic crust', haha, but don't worry about the strap-line, this is just huge and heaving and genuinely epic in scope, and with a beautiful cover illustration by Mr Andy Lefton of the abovementioned War//Plague. It's great to hear my old friend Wojtek making such glorious noises again.
Frenetix/Decontrol/Anord 'And Still It's Grim Up North!'
Defiantly DIY, this intense three-band compilation represents the fastest, nastiest punk rock currently doing the rounds in the north of our paranoid little island, and it's hard to choose between the three bands, who give us five songs each: Frenetix, Decontrol and Anord. They honour the UK82 roots, but keep everything relevant with a dose of late '80s UKHC and some fierce anarcho crust, plus sincere angry lyrics.