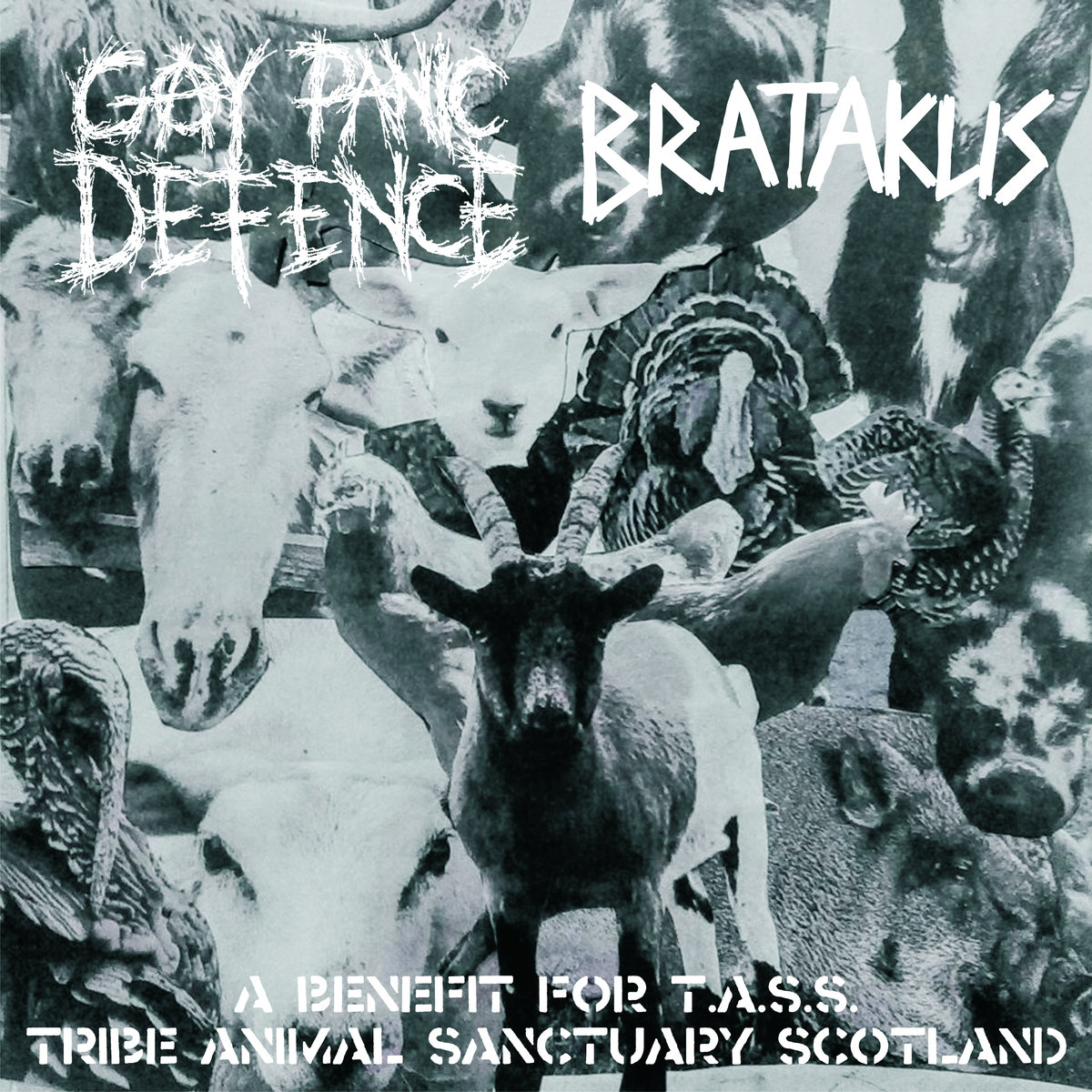 BRATAKUS from Scotland (interviewed here, reviewed here and here) and GAY PANIC DEFENCE also from Scotland (reviewed here) team up on this benefit release to give their sincere support to Tribe Animal Sanctuary Scotland.

Tribe Animal Sanctuary Scotland is located in Central Scotland in Clyde Valley ands is a rescue animal sanctuary. In short, the animals that were supposed to end up on someone's plate enjoy their life of freedom and love among the loving people, in their natural habitat, treated as pets. TASS is home to coos, pigs, sheep, donkeys, hens, turkeys, goats, dogs and cats, who all live in peace and tranquility enjoying being looked after and spoilt. Whereas the people who run TASS are able to maintain it in their day-to-day activities, they will accept any support and donations. And this is what this EP is for. How can you help? First of all, by visiting their Amazon Wishlist and buying something TASS needs , by purchasing their merchandise and support packages and by purchasing this digital EP for the minimum of 4,50 but make sure it's more.   For more information on TASS go to their Facebook page and website.
Oh, and the bands. GAY PANIC DEFENCE throw in 5 tracks, the longest lasting 1:11 and the shortest 00:21. As said in a previous review, this is punk chaos with hardcore beats, some d-beat and frequent tempo changes.   It's less power violence as in their "Snowlake…" EP.  Lyrically, they sing a lot about animal rights and the ills of this society.
What else can I say about the sister duo, the mighty BRATAKUS, that I haven't already said? Angry, riot vegan punk at its best with 3 short, simple and sincere tracks all on animal rights. Wait, the third track features a young man on vocals, the 9 year old brother of the BRATAKUS sisters who wrote the lyrics himself! I mean, I cannot sing that fast as he does!!! So, the newest BRATAKUS release ends with another band member. What does that mean? Will BRATAKUS be a trio of angry brats inspiring people to give up their meat eating habits and going vegan, like CONFLICT used to do back in the day? To find out, welcome to 2019.
This is a digital download release, but I've been told it is also available on CD, so here you go, another way of showing your support to TASS.
And if you can, go and see BRATAKUS live in Japan next week, or follow SANCTUS PROPAGANDA for in-depth report from the tour.