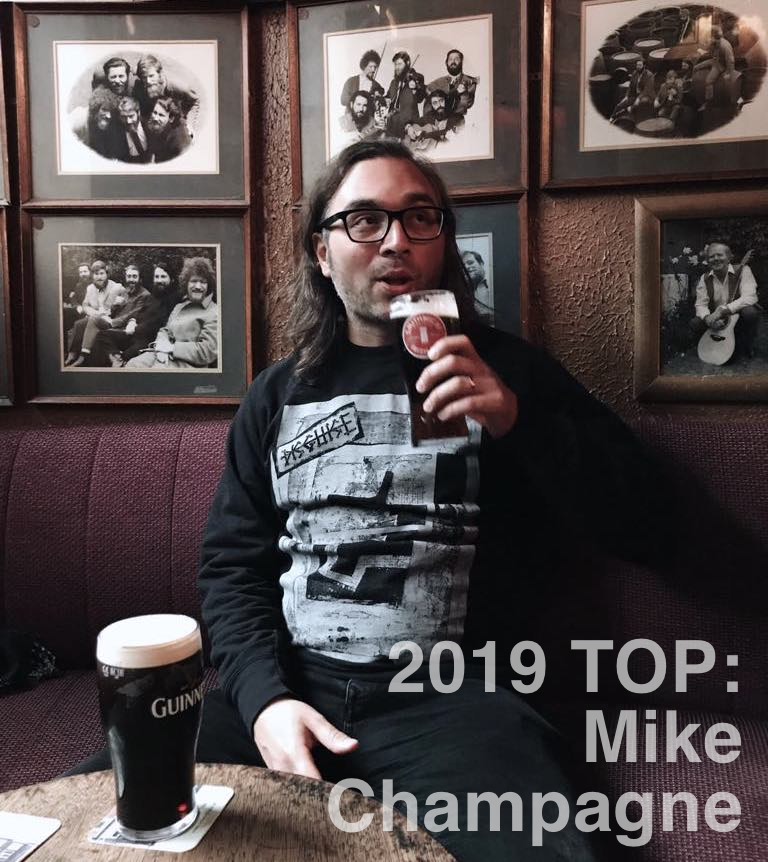 Is this the last post from the "TOP series"? Time will show.  But now, Mike Champagne, guitarist/bassist for Polish hardcore punk bands OHYDA, PRISONERS BY CHOICE and BLIND EYE, visual artist and a photographer, gives his BESTS of 2019 and his own photos.
Disclaimer: This won't be a typical TOP 10. First of all I hate boundaries, the second reason is simply more than 10 records I enjoyed this year.
The record I've listened to the most this year was most likely DIÄT "Positive Disintegration". At first I was disappointed that it's different than their 2015 "Positive Energy", but it grew on me listen after listen. It's dark, full of despair– all the things you're looking for on a post punk record, though it's far from a typical band of the genre.
If you're looking for a more traditional approach to post punk then reach for CHAIN CULT's "Shallow Grave" – it's catchy, melodic and makes you wanna dance and singalong (had the chance to witness these guys live twice – that's where you get the full band experience!) or "No Sense No Feeling" by HIG VIS, which is more sad and maybe even slightly indie sounding?
Continuing the danceable records topic I have to mention FATAMORGANA's "Terra Alta" (synth-wave with members of Belgrado) and one of my recent favourite's "World Wide W.E.B" (or their "Urban Madman" EP) by L.O.T.I.O.N. (IC.B.M. being the stand out track from the LP! Sending shivers down my spine just thinking about the combination of tune and lyrics).
This was also a good year for European hardcore, at least 6 records stood out for me this year – France's "Cross The Line" by ISSUE (imagine a mix of Destino Final and Born Against), Finland's "Ihmisen Kasvot" by KOHTI TUHOA, Sweden's self-titled LP by AXE RASH (I'll say it one more time – one of the best live contemporary euro hardcore bands), Greece's "II" by ANTIMOB (Wow! What a comeback!), Sweden's chorus drenched hardcore sweeties VIDRO with "Allt Brinner" UK's (albeit the quite international line-up) "No One Wins" by GAME and 2nd demo by rabid Belarussian hardcore heroes ОЖОГ.
When talking about hardcore we need to acknowledge two polish releases – GOVERNMENT FLU's "House Arrest" EP and "Strach" by JAD!
OK, enough talk about hardcore – let's talk metal! I really dug the selftitled sophomore release by DC's metal punks WITCHTRIAL (less Celtic Frost worship, more Slayer this time!), DEVIL MASTER's goth approach to punk metal on "Satan Spits The Children Of The Night", "I iść dalej" by GRUZJA (filthy, raw mix of black and death metal with Artur known in the hc/punk scene as the live bass player of Wszaniec) and a two track demo from Warsaws's thrashers SANITY CONTROL which left me hungry for more!
Pretty good year for noisy records as well (with some polish mentions!) – Let's start with UK's noisy intellectuals BAD BREEDING who once again made it to my top of the year list with "Exiled" (this year I witnessed them with their best live line-up so far), Irish crasher crusties DISGUISE "Bas Fada" EP (oomph! that distorted drum intro!) and Sweden's d-beat noise vikings SEX DWARF's "Sensou Hantai" EP make me want to smash a bottle on my head, scream my lungs out and mosh till I die, followed with two polish tape releases – LAXITY's "EP 2019", TORPUR's "Gobland". Both bands have their own distinct sound and giving extremely good live performances (with Laxity actually being a performance!). Laxity sounds like a dissonant child of Dead Kennedy's and Crass high on speed and on the run from a tight security psych ward, while Torpur (naming their genre as goblin punk) have a heavier, more gloomy approach which sometimes feels like if Raspberry Bulbs grew up listening to emo violence and ultra raw black metal. An honorable mention to FALSE ACT's "Extended Memory" which balances between dirty punk (raw production and heavily reverbed vocals) and post punk (clean guitars with lots of chorus).
2019 wasn't really a good year for D-beat – not many releases stood out, but you can't go wrong with VAASKA, who released an EP titled "Inocentes Condenados", a French surprise from BOMBARDEMENT with their near perfect understanding of Rainy's basslines on their self titled LP and another Swedish Totalitär clone band SPRAUT with their "Det Smutsiga Livet" EP. Same thing was with Oi! – the only record which couldn't leave my turntable was CONDOR's "2017-2018 Singles Collection". Since I just mentioned a collection of previous recordings, then I must include two great reissues on my top 2019 list – ZOUNDS "Can't cheat karma" and ICONOCLAST "Domination or destruction".
Best gigs I've been to include: GAME in Warsaw, WARTHOG in Barcelona, SEX DWARF, ZYANOSE and PARANOID in Wrocław, CHAIN CULT in Warsaw, ROTTEN MIND in Warsaw, GLAÜKOMA in Biłgoraj, BAD BREEDING in Kraków, DISGUISE in Dublin, SANITY CONTROL in Lublin, TORPUR at Ultra Chaos Piknik, ОЖОГ in Białystok and LAXITY in Lublin (best polish live act nowadays!). This was a good year and I'm really looking forward to 2020! Can't wait to see Greek hardcore punks BLOOD TRACE invade Poland in January, Wrocław space crusties FLUX finally releasing their s/t LP and hopefully much more! To end this list there's two more polish bands I need to mention – SHIVERS and STRÜP because their debut recordings have no physical format yet, but you need to keep an eye out for them when they're finally out and catch them live.