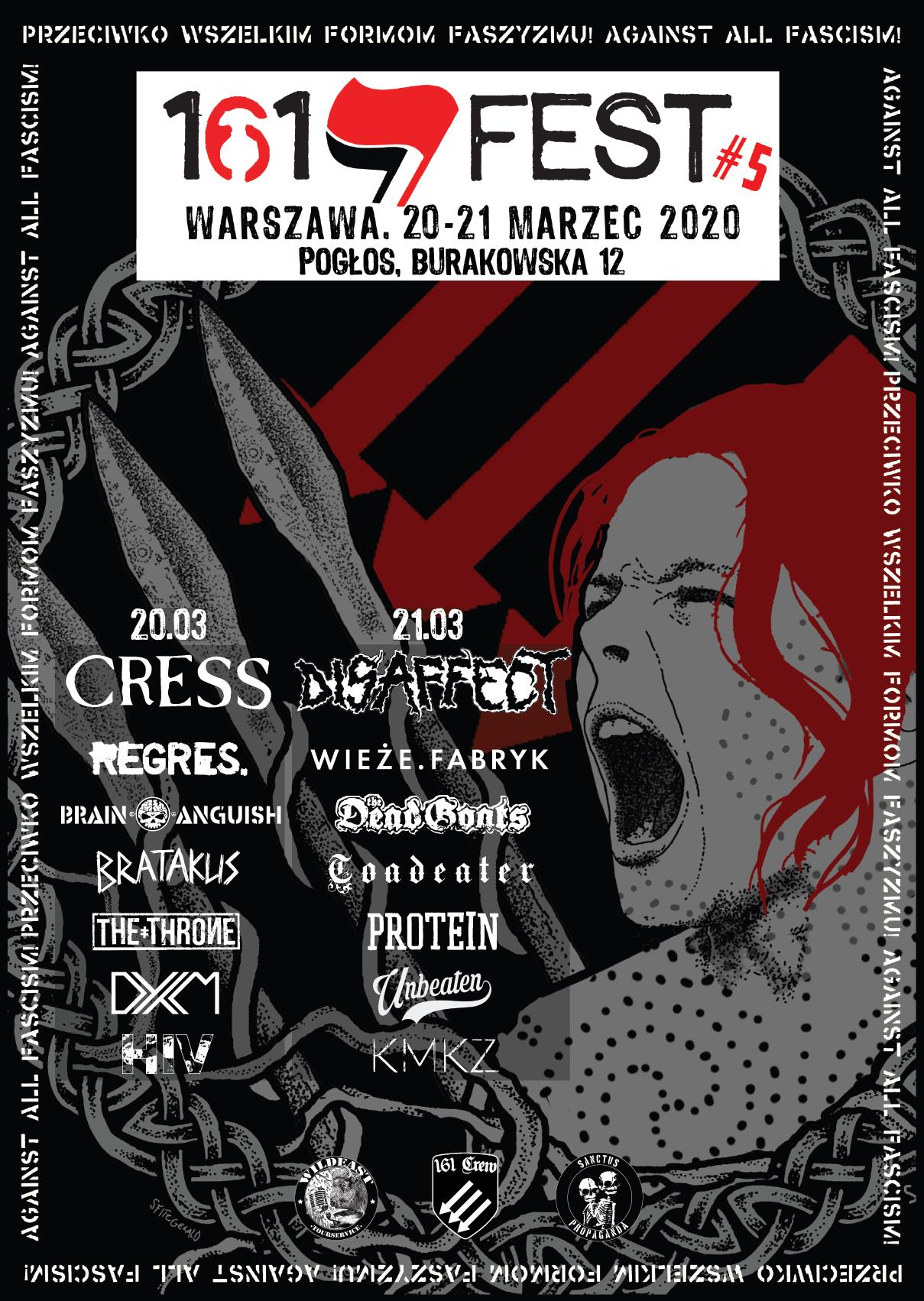 161 Fest #5 is going to be the first biggest festival to take place in 2020 in Poland.  It's a two-dayer, in Warsaw, 20-21 March, a benefit for antifascist group 161 Crew with 7 bands altogether.  It's quite a happening as this is going to be the first ever DISAFFECT gig in Europe after their big reunion, CRESS gig in Poland after several years, THE DEAD GOATS big come back to the stage with their death metal punk and much, much more.
Here is the detailed line up for the festival:
20 March 2020, Friday
CRESS (England)
https://cress.bandcamp.com
REGRES (Poland)
https://regres.bandcamp.com
BRAIN ANGUISH (Scotland)
https://brainanguish.bandcamp.com
BRATAKUS (Scotland)
https://bratakus.bandcamp.com
THE THRONE (Poland)
https://thethrone.bandcamp.com
DYYM (Poland)
https://dyym.bandcamp.com
HIV (Poland)
https://hivgrindcore.bandcamp.com
21 March 2020, Saturday
DISAFFECT (Scotland).
https://www.youtube.com/watch?v=rLtE19_h1GY
WIEŻE FABRYK (Poland)
https://wiezefabryk.bandcamp.com
THE DEAD GOATS (Poland/Belgium)
https://thedeadgoats.bandcamp.com
TOADEATER (Germany)
https://toadeater.bandcamp.com
PROTEIN (Poland)
https://proteinxxx.bandcamp.com
UNBEATEN (Poland)
https://unbeaten.bandcamp.com
KMKZ (Poland)
https://kmkzhc.bandcamp.com
We do hope to see you at this one.  It's a festival of come backs and reunions, record debut for DISAFFECT Discography 2LP on Ruin Nation Records and a few other record release dates we have to keep our mouths shut about .  You cannot miss it.  In case you still haven't got your ticket, here's info on how to get it.  Also, check out the festival FB event: https://www.facebook.com/events/438775266857445/
Venue: Poglos, Burakowska 12, Warsaw
Festival ticket (2 days) – 80 PLN / 19 EUR
Please note we sell ONLY a 2-day ticket, March 20-21, 2020. You can buy unlimited number of tickets. You will get e-mail confirmation at the end of each month. We will sell single day tickets only if venue space allows later or at the door. Don't send money for one day, we will return it and you will have no ticket. Wait patiently for exclusive info regarding 1-day ticket sale.
Poglos has limited space so act fast to secure yourself and your mates place at the festival. 161 Fest#5 is a 100% benefit festival for 161 Crew, so no discounts for group buys or guest lists.
** PayPal: info@sanctuspropaganda.com **
In Notes provide 1/ your name and surname, 2/ e-mail address and 3/ numer of tickets purchased to avoid problems at the door.
Make sure PayPal does not charge us a fee. Thanx.