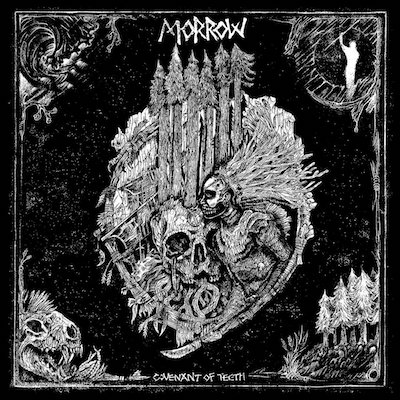 (review) MORROW – Covenant of Teeth LP
I've always had and always will have appreciation and respect for those punk artists who choose to convey their message through more artistic approach where different methodologies are applied including storytelling.  This is MORROW as in TOMORROW.  And indeed, lyrically Alex (-ex FALL OF EFRAFA just to start with) takes us forward to the year 4500 where the world is frozen.  Having fought wars, exploited the natural resources and all man-made technologies, humans reclaim the earth.  They go back to their roots as there is not much choice left. There is only ice , water and forests.
With such a background to the record, you do want to play it.  As in all Alerta Antifascista and other co-labels releases you are faced with a great package.  This time it is a beautiful black and white gatefold with a wooden style  vinyl in it.  Perfectly corresponds with what you are about to hear.  Because the record welcomes you with a burning fire, heat comes out of your speakers as you imagine the tribal people making themselves warm in front of fire.  Then comes the violin and noise starts.  It is intense, brutal emo-crust as they call it with raging vocals from Alex and pretty lengthy lyrics as well.  Only 4 tracks, but the record is not a short play.  Take it as a story which is being told to you by this amazing collaboration of sound and visuals.  It is TOMORROW.  Can't wait to hear more from this concept project.
(33 rpm)
Alerta Antifascista, Chaos Rural Records, Halo of Flies Records