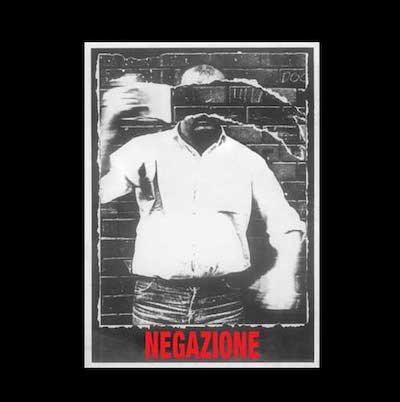 When I came across this exquisite box set I was right in the middle of Italian heat in Florence.  No better place to learn that your most favourite Italian hardcore punk band was honoured such a collection.  And this is a collection of everything NEGAZIONE ever made.  Plus more.
This release is the genious work of this nice guy from Florence running Contempo Records since 1984 and Data Records vinyl store in Florence, Via dei Neri 15, which is right in the center.  So here I am, doing my vinyl shopping as usual in this store and he says "one of the last copies, just for you".  He literally takes it from under the counter and my eyes pop out.
It is a beautifully designed box set which you open to learn that 700 of these were made.  Not a lot, and I am pretty sure they are all sold out.  But if you look hard, you will find it.  If you consider yourself a NEGAZIONE fan like I do, this is what is waiting for you in the box:
Mucchio Selvaggio – demo tape
Tutti Pazzi – 7"
Condannati A Morte Nel Vostro Quieto Vivere – 7"
Sempre In Bilico – 7"
Behind The Door – 12"
…Lo Spirito Continua… LP
Little Dreamer LP
100% LP
… so in other words, all releases, with all the covers reproduced which is important especially with the Tutti Pazzi 7".
But this is not everything.  You also get a red exclusive Little Dreamer European Tour 1988 replica t-shirt, 8-page booket with photos and a photo poster from NEGAZIONE gig at CBGB's in 1990.
Content?  I hope.  Necessary to talk about the music itself here?  I don't think so.  NEGAZIONE give you a rare opportunity to learn the band from the very first demo tape to the very last 12"EP.  In a few hours you see how the band developed and progressed from a chaotic Italian style hardcore band to a more mature European style thrash hardcore with melody and English lyrics.  A box for a fan and a future fan.  A must!