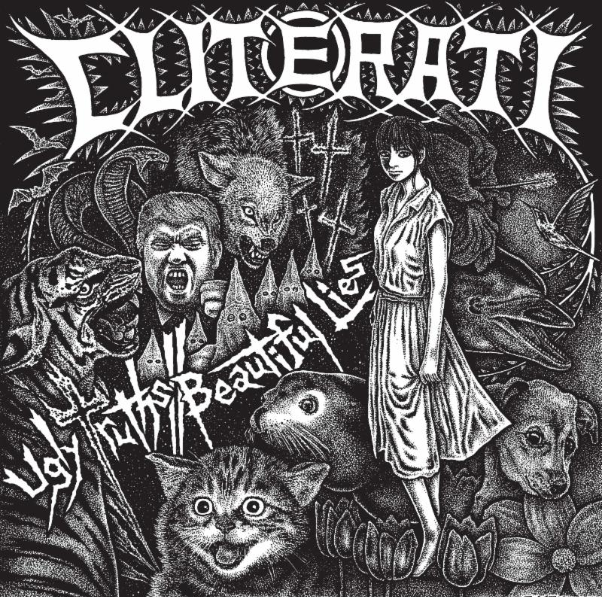 Those of you who don't know, CLITERATI is a four piece punk band from Portland, and so far have got a demo and a split LP with VIOLATION WOUND on Tankcrimes. I remember listening to them the other day and their L7 (Fast&Frightening) and Cro-Mags (Hard Times) covers stayed in mind as well as their angry and aggressive political stance.
Their debut full-length is called "Ugly Truths / Beautiful Lies" and is out August 30th on Tankcrimes. The beautiful cover is done by Japanese artist Sugi, known for working with Doom, Hellshock, Death Side.
"Ugly Truths / Beautiful Lies" has 15 tracks and it's such a progress in contrast to the sound from their previous releases. The sound is thicker, crustier, and so are the vocals. They also dropped this pot-like snare sound. This LP is going to be a killer.
CLITERATI are touring US in August, so go and see them live if you can:
8/02/2019 Bar Bar – Denver, CO
8/03/2019 Vaudeville Muse – Des Moines, IA
8/04/2019 Organize And Arise Fest @ Palmers – Minneapolis, MN
8/05/2019 Rancho Huevos – Chicago, IL
8/06/2019 The Trumbull Plex – Detroit, MI
8/07/2019 The Hub – Cincinnati, OH
8/08/2019 Camp Clarke – Pittsburgh, PA
8/09/2019 The Century – Philadelphia, PA
8/10/2019 Brooklyn Bazaar – Brooklyn, NY
8/11/2019 Joe Squared – Baltimore, MD
8/12/2019 VSC – Richmond, VA
8/13/2019 Sly Grog – Ashville, NC
8/14/2019 The Bakery – Atlanta, GA
8/15/2019 Poor Boys – New Orleans, LA
8/16/2019 The White Swan – Houston, TX
8/17/2019 The Lost Well – Austin, TX
8/18/2019 TBA – El Paso, TX
8/19/2019 The Cave – Santa Fe, NM
8/20/2019 Yucca Tap Room – Phoenix, AZ
8/21/2019 The Rec Center – Los Angeles, CA
8/22/2019 The Justice Center – San Jose, CA
8/23/2019 Eli's, Oakland, CA
8/24/2019 Boxcar Ballroom – Weed, CA
8/25/2019 TBA – Portland, OR