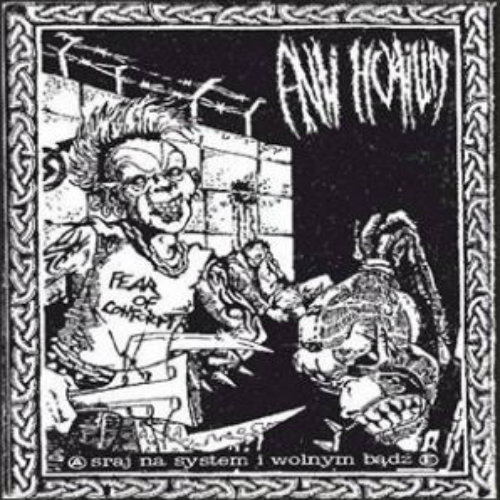 It's one of the most important records to come out of Polish DIY punk scene and it's all on a very personal level for me.
First of all, the people who recorded this album were or are good friends of mine. Mind you, some of them are no longer with us, hence the past tense. Secondly, I had a privilege to take part in the recording doing backing vocals, release this originally on a cassette tape back in the day (1994) and do all the covers and layouts, so seeing it released on vinyl thanks to the mighty Stradoom & Chaos Days, makes me more than happy. Finally, it features the unique band called FEAR OF CONFORM, which didn't last long but managed to make quite an impact. ANTI HOSTILITY invited them to utilise the remaining studio time and gave them space on tape and this 12".
What a record this is. ANTI HOSTILITY play fast, no-compromise crust punk with early HIATUS touch and their own style as well. This is what happens when punks enter studio first time in their lives. The guitars are turned up, fuck the noise and distortion. Great riffs, great vocals, well written and composed lyrics. This studio recording overtook its time and to this day remains THE best (not "one of") crust punk to come out of Poland.
FEAR OF CONFORM are more grindy, kind of DISRUPT-ish punk, if you know what I mean. 4 short grind punk tunes rounded off with SORE THROAT cover. Yummy. Unfortunately, F.O.C. disbanded fairly quickly after this recording, so make sure you get this record solely for this piece, as the 1994 tapes as you may be well aware of, are long gone.
Superb!