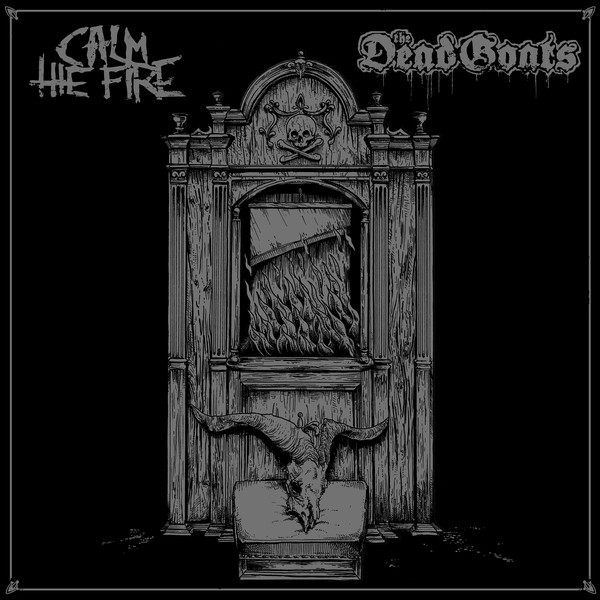 (review) CALM THE FIRE / THE DEAD GOATS – split 12"EP
These two Polish bands are at the moment top league when it comes to bridging some gaps between punk and metal.
CALM THE FIRE take no prisoners.  They blast through your head with brutal crusty guitars, mincing drums and very high octane tempo.  You will find many elements in their music, but you will have no time to think about them.  It happens so fast.  It is intense and very brutal.  There is hardcore there, grind core drums, psycho punk and death metal solos.  Five short songs of dirty sound, inspired by cold Sweden, which of course will melt your heart and you will love it.  BTW, great vocals.  One of the best I've heard so far from Polish bands.
Flip the side and you have THE DEAD GOATS.  The first track "Cemetery Hunt" welcomes us with much heavier riffs, introducing complexity of THE DEAD GOATS  songs.  This track opens up slowly, it is horror driven and packed with a solid bass line.  And I can't help but hear some "Reek of Putrefaction" riffs, or at least they are a mile away.  Which only adds to the horror of this music.  As it progresses, you are treated with drums driven death metal punk at its best, fast and brutal.  "Broadcasting Dead" is even better because it doesn't leave you emotionless.  It is fast, it is thick and very metal.  Great continutation of the first track.  The cherry here is CARCASS cover – play it and have your own opinion.  I am not surprised they did it.  It only makes you think they are better then CARCASS were, when they recorded it.  Full stop.
There is one very important aspect of this record.  Musically, you will find it on metal shelves, but it is so punk at the same time.  That's why it is another record of the year for me.
500 copies were pressed, 250 of which are red transparent.  Killer artwork, as usual, from both acts.