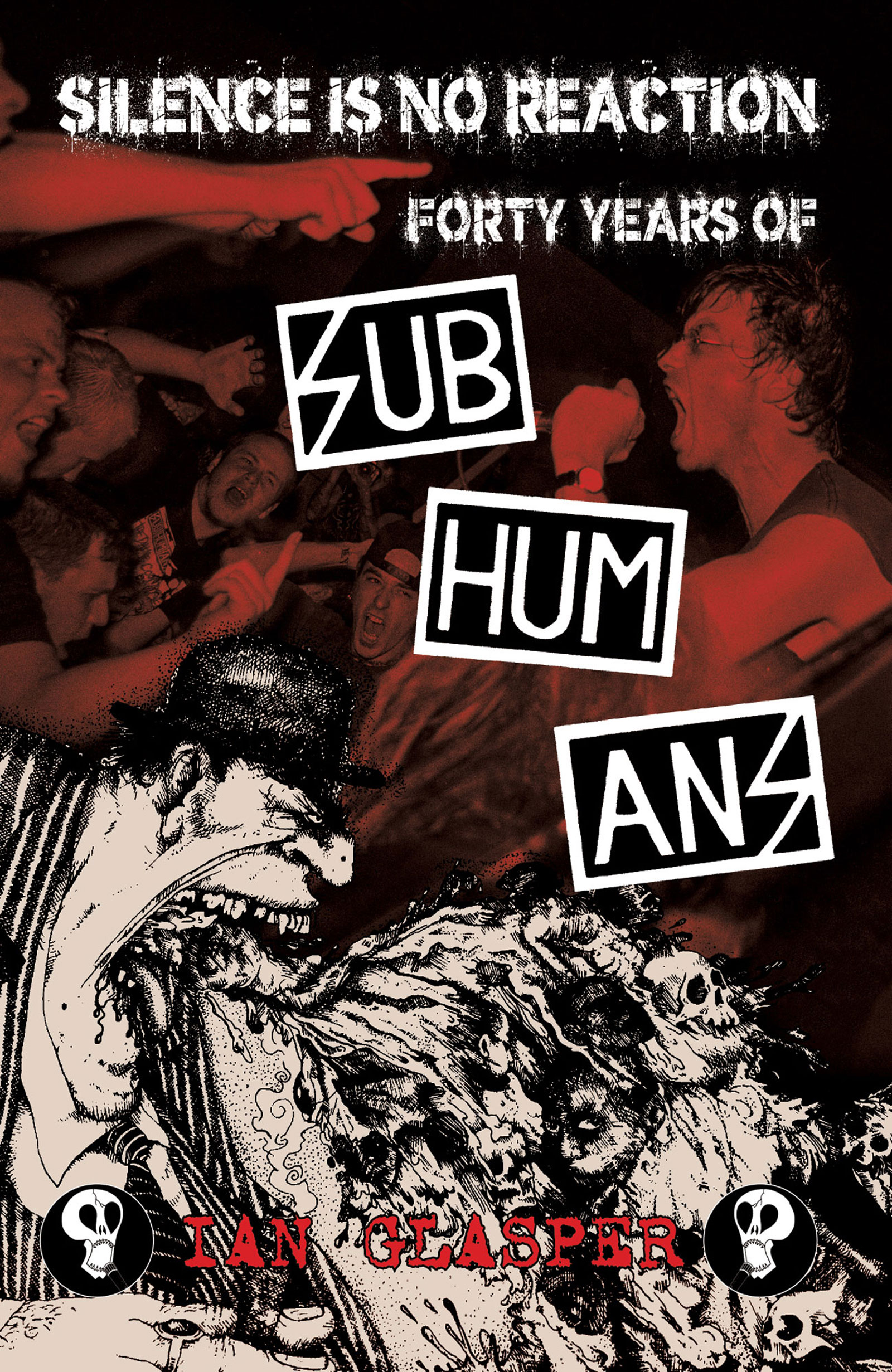 Here I am in London at a friend's squat. Came down south to meet up with friends and most importantly to attend 3 punk gigs in three nights. I wanted to see the bands I'd taped off of my friend which introduced a change in my life to a degree I started to learn bass lines from some of them. Bands in question are Subhumans, Sears, Icons of Filth, Mau Maus, Anti-System, Devoid.
That is not me of course, and that is not now. First of all, I cannot play bass and, most importantly, it was in the times when I was 12 or 13 and going to London from communist Poland was equally impossible to meeting up with Putin now to put a bullet in his head. This happened to a young punk who has followed Subhumans ever since, has written a number of well-received books on punk and metal (not being a young punk anymore) and he is the best person to write another one. This time about Subhumans.
So, the book I am attempting to review was written by the man himself, the bassist, the punk writer, the archivist, Mr Ian Glasper I am privileged to know, release records for his bands and sometimes gig with. For him writing a book on Subhumans is like it would be writing a book on The Instigators or Chumbawamba for me. The two bands that changed a lot for me. That is if I could write like Glasper, naturally! And had his memory!
Ian Glasper is a frequent here at Sanctus Propaganda. He even writes for us if he finds the time in his busy life as a bassist and punk writer/archivist! There is no better recommendation. You know what you are getting. A unique compilation of passion, perseverance, knowledge, hands on experience and love!
What I am holding in my hands now is an approx. 600-pages brick that at the moment is my computer PDF file that will be a book very soon. It's being printed, so I am using my imagination how heavy and how beautifully laid out it will be.
My first encounter with Subhumans was From The Cradle to The Grave album in post communist Poland. I taped it from a friend of mine who got it from a friend of his. That must have been 1990 or 1989. I was a young teenager and had already been exploring UK hardcore punk from Napalm Death to The Stupids. Subhumans brought a totally new quality to my punk. All of a sudden it started to sound not as harsh and violent but … for the lack of better word … very intelligent, and I think you know what I mean. The instruments started to make a lot of sense when they came in one big unison. And that was only Side A of the album, but when I first heard Side B I understood what punk could really be like and this world was just opening in front of me. Endless possibilities, different tempos. And again, for the lack of a better word … intelligent. It left me speechless until the day of this review. I am playing it now and admiring it as if I was this punk teenager. A few months later I was visiting my friend Gary of Under The Gun in Hackey, London and saw this jewel on vinyl in his collection. He immediately noticed the sparks in my eyes and offered it as gift to memorize my teenage UK trip. This very copy is still part of the collection of my friend Bartek who I taped the album from. I wanted him to have the original, so the whole story goes full circle. A few years later when Citizen Fish came to my town to play a gig I was happy to be interviewing Dick, Jasper and Trotsky for my fanzine called Crust.
Enough nostalgia. The book! Let's start with the specs first. Approximately 600 pages divided into chapters, each devoted to a particular year starting with 1979 and then going year by year until 1986 when it starts to embrace periods of time until 2021. From Vermin and The Mental to Stupid Humans and then to Sub Human and finally, Subhumans.
Glasper did it in a form of long interview with each member of the band past and present talking about … well, all the details, everything you wanted to know and all the things you didn't know. It's a very easy read because it is not question-answer style. Glasper quotes band members when needed to illustrate what was actually going on around a particular topic. So you're told first hand and it's all amazing stories, believe me. Like this one, when Dick joined Subhumans,
And then Dick got arrested, for stealing a policeman's helmet [on 30-8-80]," laughs Bruce, "And he joined the band around then, sometime in September.
which explains the lyrics for "Trowbridge Park".
In books like this one I like discovering facts I was unaware of, like this one, which proves that Dick's garage is full of precious punk history:
The thing that eventually became Bluurg Tapes, I originally called The Electric List, and came from that tape trading. There was lots of trading going on back then… each generation copy sounded worse than the one before it! I've still got all those in the garage, never got rid of any of them, although they've probably leaked oxide all over the place.
The garage gets mentioned a few times igniting my imagination,
The EP was also the first Subhumans release to feature artwork by Nick Lant, an
artist that would become almost synonymous with the band, because he had such
a distinctive style and didn't do art for any other band, so it was very much unique to Subhumans.
"He just wrote a letter, as people did in those days," explains Dick, "Asking for some more info on the band, and at the bottom of the letter was this little one-inch-square picture of a punk rocker's head with a Mohican, done in very fine pen. "In theory, I should still have that letter somewhere. I kept all the letters I got sent; they're in bags in the garage – I don't know what to do with them. If I throw them away,I feel it's wrong, but if I keep them, I don't know what to do with them, so I just keep them, which is what I do with them! They're just there… for moments like this.
Enough spoilers punks but what needs to be said is that this book, like other Glasper's books is not only the story of one particular band or person, it's history of UK punk. You get to learn a lot between the lines, like I did in this book, which features my favourite The Instigators and you actually get to see their original line-up in the present day photo. Amazing.
Speaking of visuals. The book boasts hundreds if not thousands of newspaper clippings, flyers, posters and photos. A lot of them! Many of them, of course, with Dick Lucas' widest smile ever!
And for all of you archivists, Glasper provides us with the list of Subhumans gigs from September 1980 to July 2022. Guess how many they played until then? You're wrong! And I am not telling you the answer! Top it with the band's complete (and I mean very complete) discography and all the names of band members and associated and what you're getting is Subhumans and UK punk encyclopedia.
I know Ian worked years on this book, traveled thousands of kilometers to interview all the members of the band and people associated with the band, dug in their garages, often probably being a pain in the ass, which is part of the job. Professor Glasper, I salute you!
There is no other choice for you but to have this book on your shelf. That is before you finish reading it, of course. We buy books to read them first (sorry, could not resist this line addressed to younger generation punks, ha ha).
You can pre-order the book here: https://www.earthislandbooks.com/
You can also help the publisher finance the book and other projects: https://www.kickstarter.com/projects/ww3/subhumans
You can check out the interview with Ian Glasper here (it's 6 years old but you learn a lot): https://sanctuspropaganda.com/i-have-many-strings-to-my-bow-interview-with-ian-glasper/
or you can always use the tag Ian Glasper https://sanctuspropaganda.com/tag/ian-glasper/