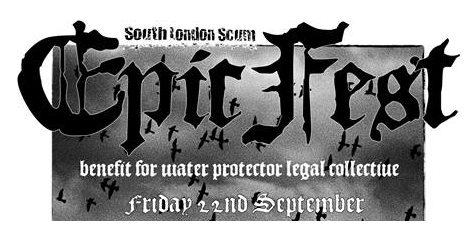 Support Water Protectors Legal Collective and experience all things EPIC
South London Scum give you a unique opportunity to browse the local UK/London sludge/crust/metal scene in two nights and support the Native Americans rights fight!
Water Protector Legal Collective was the on-the-ground legal team for the ceremonial resistance camps at Standing Rock, North Dakota fighting the Dakota Access Pipeline. They maintained a presence on-site and have since provided legal advocacy, jail and court support including criminal defense, civil, and human rights protection to Native Americans and their allies who were gathered there.
Friday 22nd September 2017, 8.30pm-1am bill:
Monolithian (Cornwall/doom)
Jøtnarr (Colchester/black metal/crust/sludge)
Arboricidio (London/d-beat/crust,/punk/hardcore)
Prisa Mata (London/stoner/sludge/psych)
Tickets: £6 door/ £10 solidarity
Saturday 23rd September 2017, 6pm-1am bill:
Earthmass (Essex/metal/progressive/doom)
Torpor (London/sludge/noise/metal/doom)
Cult Cinema (London/space crust)
Surya (London/experimental/doom)
Wren (London/post-metal/noise/sludge)
Kalloused (Brighton/noise/metal)
Ruined By (London/post-dbeat)
Tickets: £8 door/ £10 solidarity
Venue: Off The Cuff, Arch 645, 301-303 Railton Road, Herne Hill, London SE24 0JN