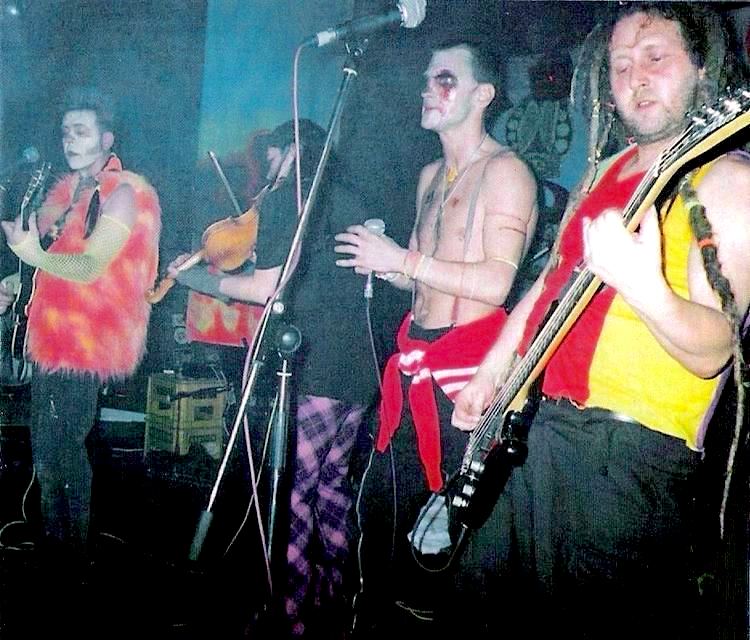 Hope you remember TOXIC EPHEX from Aberdeen Scotland, and their marvellous and only full-length record "The Adventures Of Nobby Porthole The Cock Of The North".  Apart from the LP they also released a split LP with Oi Polloi "Mad As Fuck" and three 7″ EPs: "Punk As Fuck", split with Shrapnel "Acts of Desperation" and "Civilised/Land of Opportunity"
28 years later, this punk-folk ensemble are back and take yet again, a political stance.  This time, it's Boris, who well deserves it and whose days are numbered.  The track is called "referendum Lies" and it's a cover of a TV Smith classic with reworked lyrics to serve the purpose.  Have a look at the clip and enjoy the lyrics below.  Let's hope this is just the beginning of what TOXIC EPHEX has to say about the world we live in today.
I'm toiling in a sweatshop,
A prisoner of production,
A slave to universal credit,
My mind can barely function.
They scrapped our health & safety,
I'm sick from all the fumes,
Now we downsized to a smaller flat,
We're 5 to a bedroom.

I'm seeing through Boris Johnson's lies,

This isn't what they promised us,
Ain't taking back control,
No millions for the NHS,
Just dug a deeper hole.
I was duped by all the tabloids
Blaming cuts on immigration,
Said the Tories had our backs,
and they would build a stronger nation.

I'm seeing through tabloid media lies,

I cast my vote in anger,
Thought "to hell with the EU",
Hoping for a brighter future,
But now none of that's come true.
Should have never trusted Farage,
He went to public school,
Bankers don't care for the working class,
He's yet another lying tool.

I'm seeing through Nigel Farage's lies,

Seeing through referendum lies.
Seeing through neoliberal lies.
The way they lied about austerity,
It's a self-serving twisted ideology.