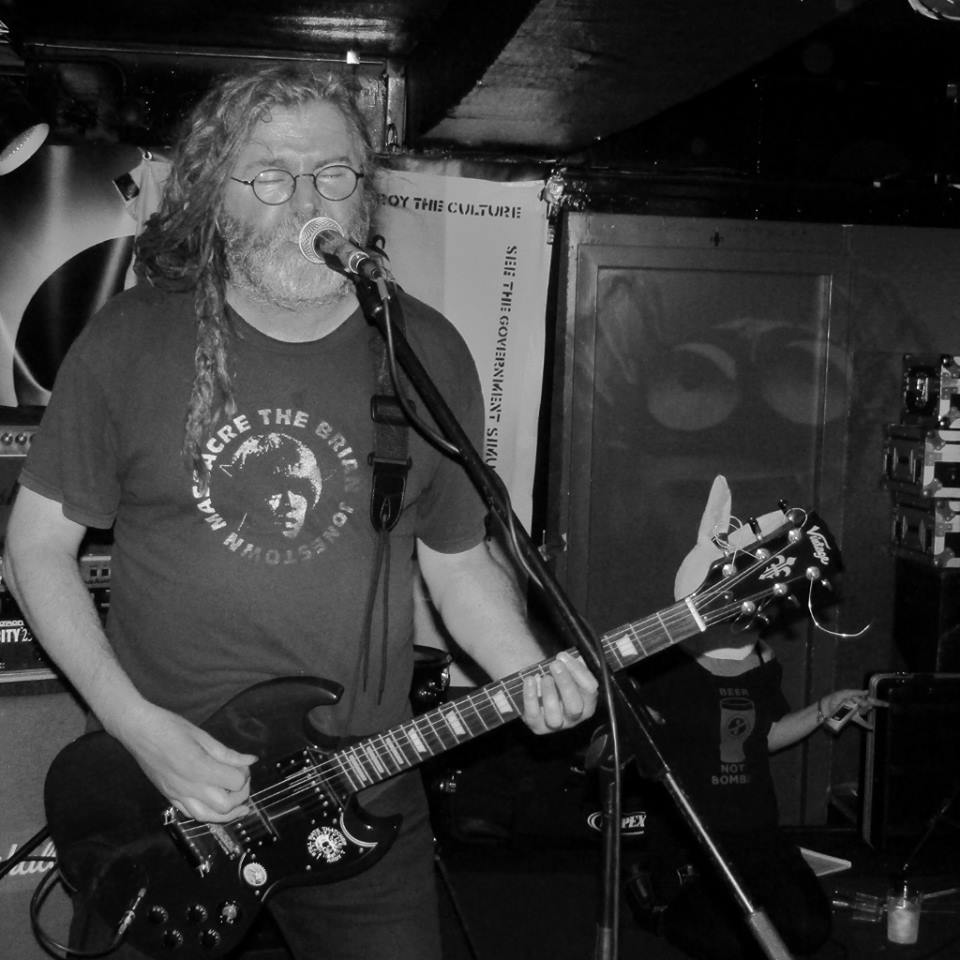 You might think CRESS have been going for ages and I need to give them this – although they say they are lazy, they are also persistent, hardworking if they want to, and super friendly. Enough to become a veteran punk band in 2021. I talked to Peter and Dave last March for CHAOS IN MY HEAD paper zine but I thought this interview should be also available online, so here it is. We obviously talked about the pandemic the past, the future and the second full length album …
SP: We start this interview March 20, 2021. This day one year ago CRESS was supposed to play 161 Fest in Warsaw having not played Poland for many years. Today we lose Wojtek, vocalist for Homomilitia, due to covid-19. A great friend, activist for gay rights, inspiration for many. I do not know what I should ask you to get you started …
Peter: Oh that's a shame, the news about Wojtek. I feel we should leave this interview until a week or so. Homomilitia, great band.
SP: I think he would have liked us not to stop, so let's go. How do you all feel in this situation after one year of pandemic? What's the situation like in UK at the very moment in terms of lockdown, safety and vaccines? Do you feel safe?
Peter: Well, I've had my first shot of the vaccine and have been fine, I just want to get out and do some gigs but I want to be safe, too. The lockdown situation here is driving people mad and I can understand the cabin fever mental state but you have to think of others whilst you are doing what you can, walking /exercising etc . It's not been too bad for me as I've been working all the way through it. Managed to loose a lot of weight and feel better for it.
Dave: Had my first vaccine, felt a bit ill after it. I never feel safe in my town, it's a shit hole. Can't wait for CRESS to gig again, get to see everyone …
SP: From what I have been reading there's an investigation in the pipeline on how the Tory government has been dealing with the pandemic and Johnson wants to postpone it. What is it exactly and who wants to do it? Does that mean the Tory government can be hold responsible?
Dave: Tory government is a joke, only out for themselves and their rich mates
SP: Observing your government actions and comparing it to ours, which is equally conservative, one can't help but think who votes for those idiots, judging by the criticism they get. But new elections come and they win again…
Peter: I know, this is a very sad situation, people fall for the whitewash and media cons every election. The Brexit shite for example, look at the chaos it's caused for export business/redtape and unrest between countries. They are like little spoiled children, arguing toys and the people what started the Brexit chaos where are they now…retired from politics, making millions from talking about it and book deals. Wankers!
SP: Looks like the Brexit thing will last for a long time if not forever, judging by the chaos happening now. Do you perhaps know anything about new regulations in terms of bands traveling to play or sending huge amounts of records or taking records with you to EU? Are they presenting any ideas for that or the pandemic is a good excuse coz bands cannot travel?
Peter: I've only read a few things about this, but I'm not expecting it to be easy to gig in Europe anytime soon. We would have to do what we did for gigging in the USA, under the radar if that's possible. No guitars or pedals but for us traveling with the drum machine is a bit of a giveaway, but possible. Free travel around Europe was and is a great thing to have, no borders, when it's not available it is truly a fucking ball ache, it will cause all sorts of yet unseen problems, just trying to sneak four old crusty punks who are trying desperately not to look like a band into a country will be an experience, but we've managed it before.
SP: It was quite a normal thing for us in Poland in the 90s. Getting to play UK back then was a big challenge. Since we're at traveling … I know CRESS, like hundred of other bands, had some plans for gigs that were crushed by the pandemic. Among many you were to play 161 Fest over here, for example. That was supposed to have been your come back to Poland after many years. Do you remember your first gig in Poland?
Peter: Yes, we played Poznań squat, I think. I remember the gig and the venue but am a little shaky on the actual place/town. We borrowed a van from someone in Berlin and drove there, got there very late and everyone had gone, but the good folks there fed us and then asked us if we would still play for them.. so, we set up a small PA and blasted our set and then did it again. I remember some of the people that lived there were dancing in their underwear and holding a new born child above their head. Was a pretty mental gig and I got to sleep in a proper bed, too..
The 161 gig was one i was looking forward to playing as I've never been to Warsaw and it sounded like it was well organised, but to play with other drum machine bands would have been easy to set up for … also we had three gigs in Japan lined up with Doom for Easter time, we were gutted about not getting to Japan also. Last year also Finland too, that would have been a first for us.
I do have the 161 fest poster on my studio wall as a reminder of what should have been and may be.
Look, Rozbrat probably Rozbrat!!!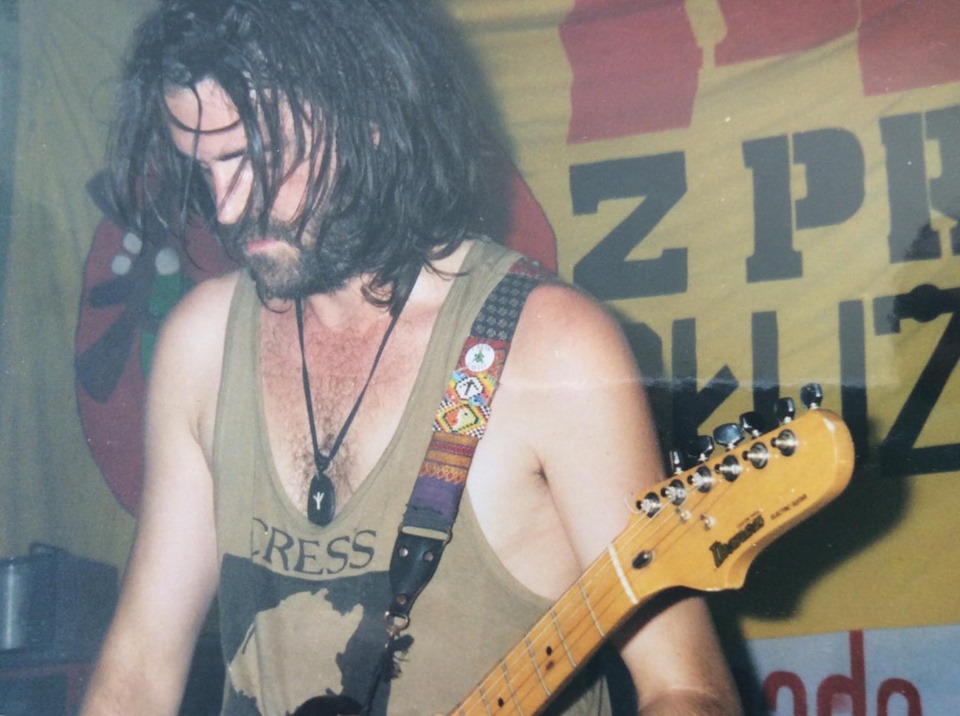 And this was in a little place in Toruń, Pilon I think. It got recorded that night.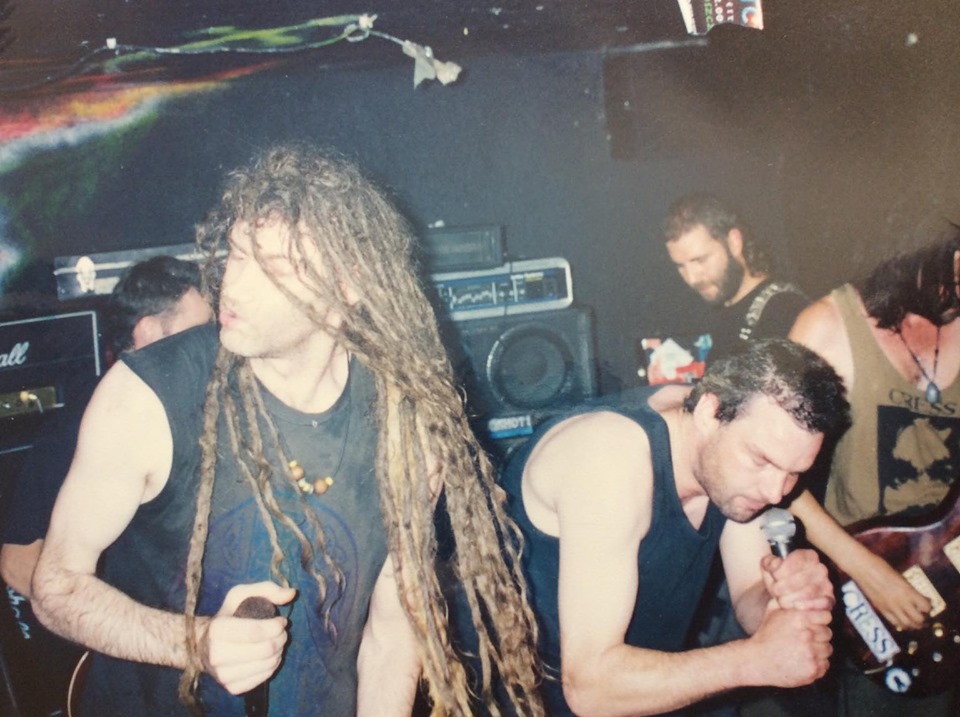 SP: That's right. That's Poznan and Toruń. Good memory mate. Has CRESS played outside Europe that you can tell us about?
Peter: Yeah, we've played 19 gigs in 18 days in the USA/Canada with Appalachian Terror Unit, which was an amazing trip. Some big size gigs with some very small venues included, too. The one I enjoyed the most was dead end farm, with Gorcrow /ATU which was a little homemade stage in a field with a bonfire, the occasional dog on the stage, sleeping under the stars at the side of the van … was just like the free festival vibe from the 90's. There was a couple of trips to Tenerife and Gran Canaria, small gigs with fantastic people. We got to go on the Bob Barker Sea Sheppard ship in GC, which was in dock getting supplies, some of the crew were present at one of the gigs and invited us to see their boat. I was thinking like a schooner /small craft … I was blown away when we saw the ex- whaler grey with shark teeth … great people, all youngsters, too. Respect.
SP: That's an amazing story about the Sea Shepherd ship. Tell us about the whole experience, what you saw and about the organisation as such.
Peter: The Bob Barker ship was in dock for a short spell and Jose's our dude in Gran Canaria's crewman/ friend Clara came to the gig, and so Clara showed us around the boat, the full tour and explained what they were about, invited us to come and see the BB the next day, cake and coffee , too. So the next time we went out to GC we did a show to raise money for Sea Shepherd, for supplies, and a new bicycle.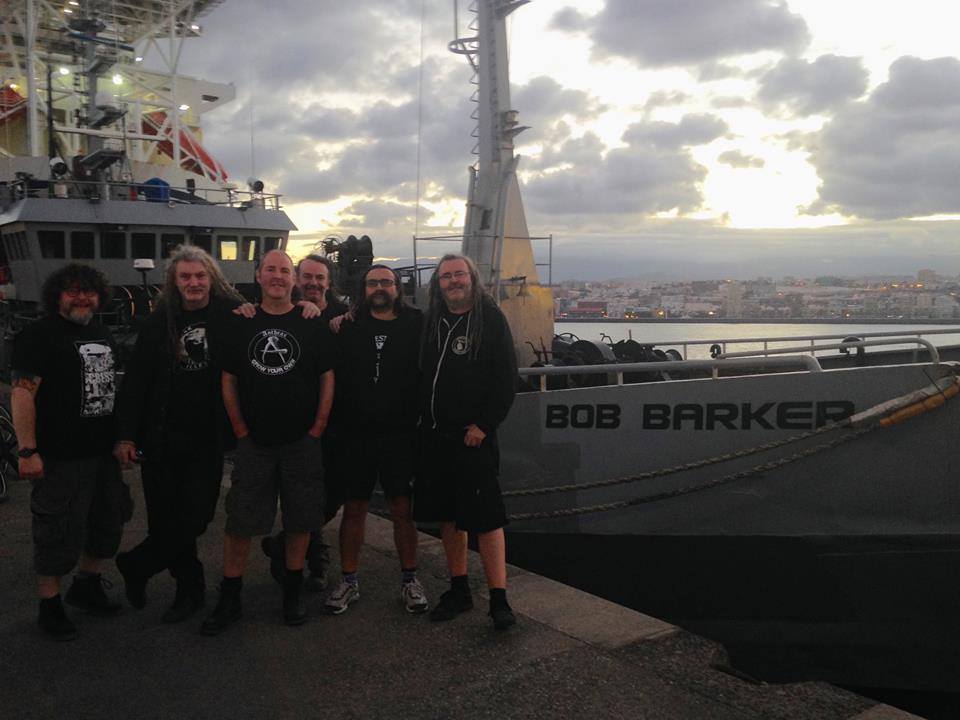 SP: Brilliant. Just to be on the topic, I watched Seaspiracy yesterday on Netflix where Sea Shepherd were nicely portrayed. Have you seen this documentary? What are your thoughts when having watched yet another film of this sort, having shouted about it on stages across the world for the past XX years, having talked to many people on the loop about it, etc etc the human kind continues to do what we do bringing us to the brink of destruction? Do you still have hope?
Peter: I haven't seen it yet but hope to watch it soon, instead of us punks banging on about it, the power of television might help people, in their decision making. I hope the politicians start to take this world destruction seriously and stop lining their/friends pockets. I love what the kids are doing today, protesting about not being able to protest, and standing up for Extinction Rebellion, etc Sometimes it feels like you're preaching to the converted.
SP: Well, scientists have already told us what not to do, so I guess everyone at the wheels is informed. However, I somehow do not see people giving up on meat industry as a whole. What's the percentage of vegans/vegetarians in UK now, do you know? It's always been the highest in Europe. I remember arriving to UK first time in 1990 and was shocked to see an array of choice for vegetarians.
Peter: There is a bigger percentage of vegans these days and veggie food available. Most supermarkets have gone for the veggie dollar as they see it as a potential money maker and after all they are in business. But I think the larger choice of veggie/vegan options are a great alternative to any meat product … so I'm all for it.
SP: Yeah, there is this debate on whether vegan dishes should or should not be copies of meat dishes including their names. What's your personal preference?
Peter: I'm not sure how I feel about this. I see why they use the similar/familiarity but I eat the not bacon stuff and the veggie/vegan sausages because I like them. Nothing to do with missing the taste of a meat sausage. I love Tofu and Seitan. The Seitan we had at Bambara Squat when we played there was the best we've ever had. Joe went back and paid for another made by Edwin de Wit, I believe. It's only a shape after all, or is it! If the vegan not bacon product was in a hexagon shape i would eat it, thick or thin. It's not an animal and that's the important element for me.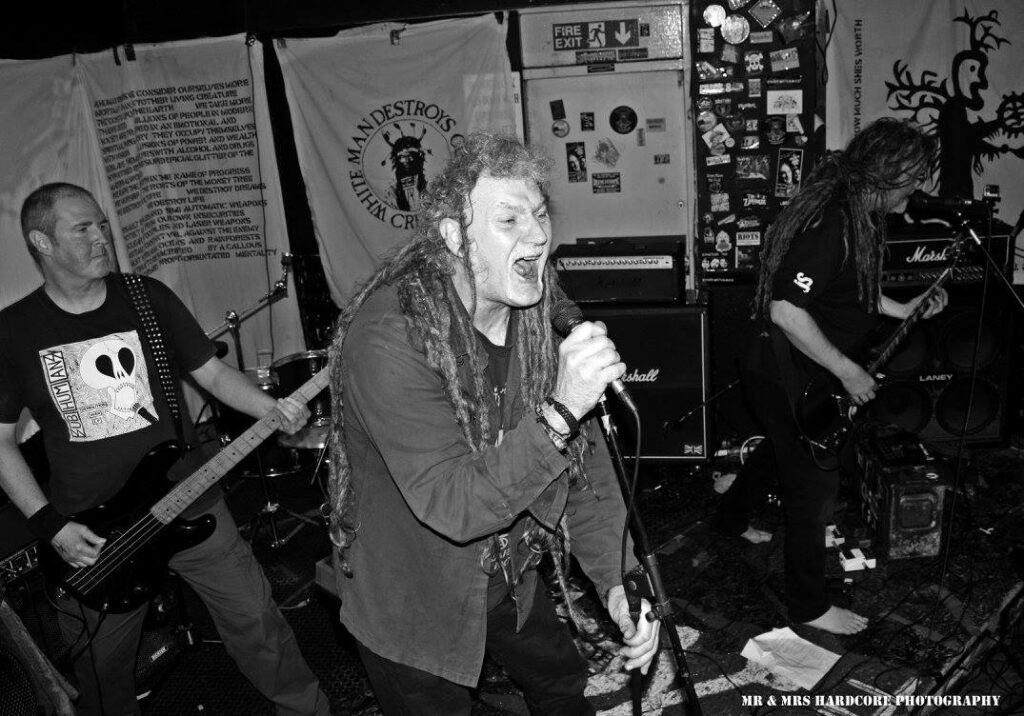 SP: Let's talk about the band. CRESS have been busy release-wise recently. A split with Buff and a three-way split with Andy T and War All The Time. Tell us about those releases. How did they come about and which recording did you use for the split with Buff.
Peter: Yeah, the three way split with Andy T band/War All The Time was a gig at Rocking Horse in Durham which is a rehearsal space/recording studio. It was suggested we record the gig as it was an easy set up situation. All bands used the same gear/backline/etc and the audience was limited to 40 first come first in, due to limited space. We recorded the full gig and chose the songs we didn't fuck up too much, it was a long day after all but one of the most enjoyable. We just got on with it and weren't really aware/nervous about being recorded as we'd heard recordings from RH before and just let them get on with it. They did a great job. The Buff split LP came about as most things that happen with CRESS, just talking about it whilst having a drink with other band mates and the next thing you know someone ( Daz/Saul ) is saying " tapes rolling " in your headphones. The songs on that split were studio versions of Barred Gates of Reality/S21/War Machine which have all been recorded over the years but at our home studios and I wanted them to be recorded with a backline ( amp sound rather than just pedals). Dead Bird is a new song and Starvation is something myself and Chris put together for a video we did, called Sundeath by Systemsystem. The two covers song is just a live set regular and the Flux cover is just a beautiful song that I wanted to cover. We have a couple of new song to record but have not been able to rehearse in Joes house for over a year now and to be honest its a little bit of a struggle with this virus hovering over us
SP: Do CRESS ever work online these days? Many bands do and there are some that do not like it. What's your preference here?
Peter: I've done a bit with Karen (girlfriend ) we did a short set of old CRESS songs under the name of the Cult of CRESS. We enjoyed it, just set up in the kitchen and laughed a fair bit. It's on youtube under "Lockdown madness with the cult of CRESS. The cult bit is from our festival band/group the cult of orange … and my preference is always to play live/gigs. I love to talk to people and i miss that old and new friends.

SP: Are you also planning to release the all new full length album? It's been a while since "Monuments".
Peter: No, there's no plans for a new LP length release, at present I only have a couple of ideas for tunes, and lyrics. I know Boris is giving us a lot of subject matter to write about but sometimes you feel you are repeating yourself over and over. When will we ever learn and stop being fooled by these self centred money grabbing egotists … I'm thinking about two new songs with two different live drummers but it's getting in the studio space with strangers that's a problem at the moment. No plans to release they will probably end up for charitable causes …
SP: Two drummers at a same time mate? Sounds interesting and powerful.
Peter: No, two drummers on two different songs that follow each other
SP: Wouldn't you like to keep it for good perhaps?
Peter: No … it's a rehearsal thing and a recording thing, its so much easier. The room we rehearse in would not accommodate a drum kit it's so small. And we don't have a van to fill with a drum kit etc. The reasons why are just too many, but mainly we travel to gigs (when we used to do that ) in a car with a roof box, four of us with the merch and guitars etc. We played my girlfriends 50th party at our house, we had our friend Neil play drums for us. We didn't rehearse it, just played the songs very differently, it was a lot of fun and very, very loud, ha ha
SP: But still, why do you keep us waiting for the Monuments II LP?
Dave: Just the way things are, it will happen one day, haha
Peter: I don't want to be too repetitive with the song content, even though Boris is making it very easy.
SP: You're just super lazy…
Peter: Yes, of course.
SP: Is it the laziness that keeps the band going for so long? What do you think are the reason for CRESS being a veteran punk band? Brotherhood …?
Peter: yes, we've been in band with each other from the late seventies, The Deformed, and then The Atomic Space Cakes, then CRESS. So you don't get to spend that much time with people who you don't get on with, we've laughed and cried together many, many times.
SP: The Rolling Stones of punk.
Pete: Only if I'm Keith!!
SP: For the looks?
Peter: Craggy
SP: Fair enough, haha. I am not sure I ever read you explain the name of the band. What were the circumstances for the name CRESS? Are they as obvious as we think?
Peter: Around 1994 i did some Crass covers, just for fun on a four track recorder, so they were very basic, and I just developed some early songs in the same style TV screen/ DIY/Christs, etc, so the name just came from the covers tape, there is no big explanation!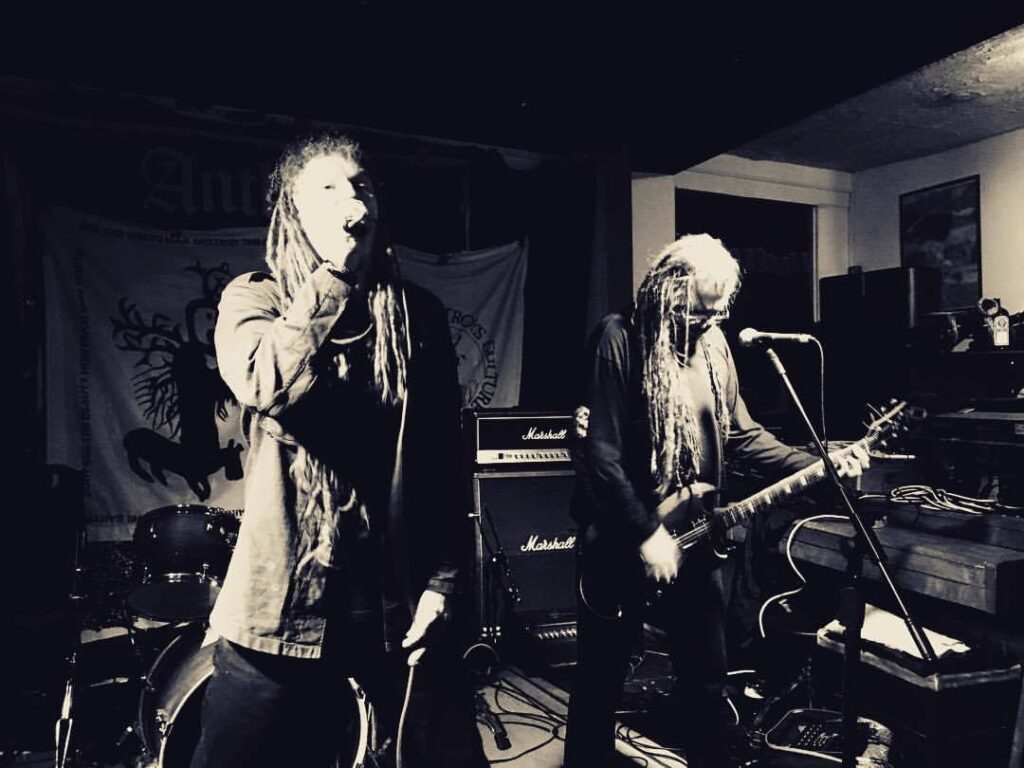 SP: Being a veteran UK punk band how much do you follow the new and fresh bands in the UK? Would you point out a few worth checking out?
Peter: Well, over the last year obviously we haven't seen or done anything musically, socially. I'm loving Brain Anguish at the moment, I love drum machine /computer music and Buff, they have some great tunes and lyrics. Sanction This are probably one of the tightest heavy bands we've seen recently and are definitely worth a watch.
SP: That's old geezers .. What about the fresh blood in the scene in the UK? Do you see it coming?
Peter: I think you need to recommend some new bands for me… but I don't listen too much heavy fast noise these days. I want to do a gig with CRESS and a magician or a comedian, rather than band after band after band … I don't see it coming often!
SP: Shooting Daggers from London is the one I've discovered recently. Do you see gigs returning in UK this year to normal or we still need to wait. What our CRESS plans for nearest future?
Peter: I'll check them out. I hope the gig scene starts real soon, but I don't think it will ever be the same, this virus is going to be with us forever so it seems. We have made a few plans for this year , with Andy T band /War All The Time to play in Colwyn Bay, and with Funeral Dickhead in Todmorden in Oct/Nov and Equinox Festival in September, but already had a lot of gigs for early summer knocked on the head and I don't think Europe will be possible until 2022 spring…
SP: 161 Fest is booked for March 2022 anyway and we are hoping it happens and you will have no problems to come. Anything you'd like to say at the end?
Peter: So are we booked … that would be amazing to play. A day with just drum machines and be in Warsaw. Never been, always wanted to see some history and always up for fun. I'd like to add thanks to anyone who has ever helped us over the years with records/gigs/food/beer/accommodation and general madness especially Chris KPA, who puts up with us and makes us look 100% better with his film shows.
SP: How could I have forgotten about Chris and his films! Tell us about the idea, when it all started and how often do you change the film. Do you have difficulties playing it in certain venues?
Peter: The film idea was always something that Chris wanted to do at the live gigs. The technology is here today that allows him to do it to the standard that he wanted. He collects and puts together all the bits /clips and puts them together on his computer and stores them on a great piece of equipment like a film sampler, so each song has its own film, for example if we do Monuments, there is film featuring Stonehenge footage battle of the bean field stone circles. So, we can change the set about and still have the right clips accompanying, there have been difficulties at certain venues like how and were to put the projector but Chris is very resourceful and a qualified electrician so he's helped us out of many a dodgy electric shock potential threat type situation, everyone band should have a Chris. The films also help us to get what we are trying to say in the lyrics to people what might not understand what we are singing about, which to us is very important.
SP: OK then, so the very last one before we go. The Baron of Amebix/Tau Cross has just posted on his bands' FB pages on punks getting vaccinated and saying fuck off to those who do get vaccinated. I don't want to start the discussion on him and whatever is going in his head right now, but how would you respond to this? Or there is no sense responding?
Peter: I guess I would have to fuck off then seeing as I have had the vaccination part one and will have part two soon. If it meant I could travel freely again I would have the needle in my eye … end of.