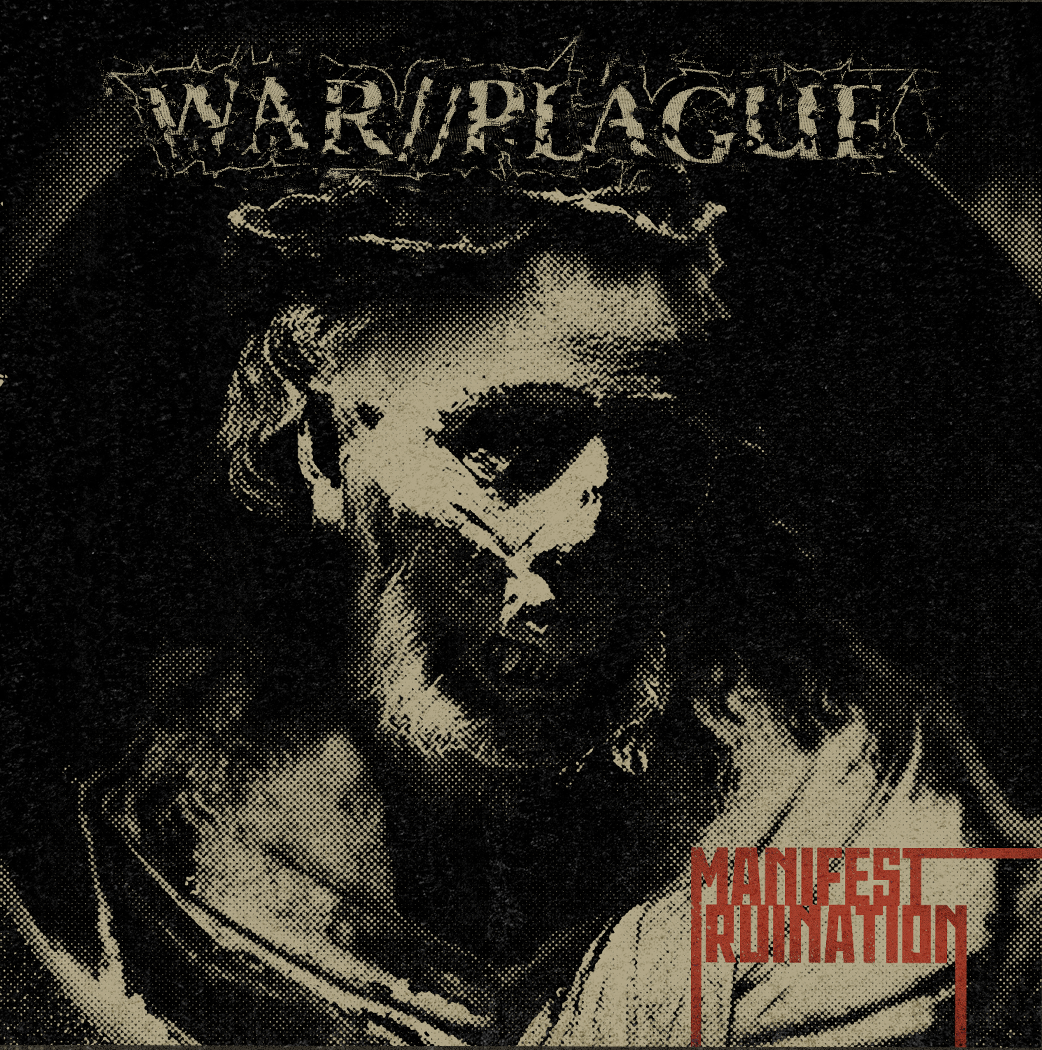 It's been 4 years since WAR//PLAGUE dropped their third album "Into The Depths" which we considered the album of the year 2018, reviewed here and we released it on CD (available here). The bar was raised very high and the expectations are high!
Born out of the ashes of the Minneapolis underground in 2008, WAR//PLAGUE continue to be active in the hardcore punk, crust and thrash community while constantly pushing the envelope with their ever-evolving sound. And here is their latest LP "Manifest Ruination" that will be slated for release in late October 2022 by Phobia Records in Europe and Organize&Arise in the States.
Like on the previous album, "Manifest Ruination" contains 10 songs of a very well produced metal crust punk, or whatever you want to call it. I am immediately struck by the thick sound production this album offers. The sound is very fat, crushing and gloomy. Something they did on "Into the Depths" but more. Music-wise it is the same, however, it's more metal than before. The double bass drum will make your speakers explode like in "Grief", for instance, and the slow death kind of metal in "Vultures" prove those punkers know the craft! Add the special kind of melody that has already become this band's signature plus the gloomy vocals that never hurry and your wait has been rewarded. It's a very good record, very professionally produced, which I think is important when you want to play some metal in your punk. Is it better that the previous album? I don't know and I don't care. It's not about being better. It's definitely progressive, WAR//PLAGUE have not frozen in the old d-beat style. Their music evolves, slowly and patiently. There is less melody in the choruses on this one than on the previous one, so perhaps you may want to call it a gloomier one, but then again, the times have got gloomier since 2018, so there you go.
In 2018 I stated that WAR//PLAGUE picked up where CONCRETE SOX left off with their "No World Order" last album and I will stick to this statement. I like my metal in my punk and I like my melody in my metal punk and WAR//PLAGUE are the only band that cultivate this and they do it very well.
Hear for yourself o this little teaser and you will see what I mean.

WAR//PLAGUE website: https://www.warplague.com/
WAR//PLAGUE Bandcamp: https://warplaguepunx.bandcamp.com/
WAR//PLAGUE webstore: https://organizeandarise.bigcartel.com/
WAR//PLAGUE Facebook: https://www.facebook.com/warplaguepunx/